These Are the Highest Rated Iced Coffee Brands on Amazon
For when it's too hot to drink regular coffee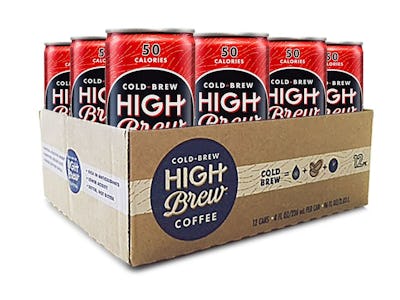 Amazon
Whether you are a year long iced coffee drinker or simply rely on coffee to start your day, there comes a time in the summer when it's just too hot and the idea of drinking a hot cup of coffee is simply unappealing. Iced coffee is the way to go when you feel like drinking a hot beverage would make you overheat and you still want (need?) caffeine. You'll find a list of the top rated ice coffee brands on Amazon, so that you can make iced coffee at home and save money on expensive cold brews.
1. Big Train Blended Ice Coffee
This instant beverage can be prepared cold or hot, but it's especially meant for iced coffee. Big Train is known for their coffee blends, and this one is sweetened and creamy, so that you can have a delicious beverage when you don't even have milk in your fridge.
2. Starbucks Almond Milk Frappuccino
This is one of Starbucks' more popular iced coffee beverages. Their almond milk Frappuccinos come in either mocha, vanilla or chocolate flavor. And they come in an 8-pack so that you can take one of them with you on the go.
3. Cool Brew Fresh Coffee Concentrate
This coffee concentrate is perfect for anyone who loves really strong cold brew. You can also add water or milk based on your preference. Once you do the math, each cup comes out to about 30 cents, an amazing deal, especially if you're used to paying $4 per drink at a coffee shop.
4. High Brew Coffee Double Espresso
This cold brew is lightly sweetened with cream, but a lot less than Starbuck's Frappuccino. The small cans are perfect for taking with you on long days, and as it's not loaded with sugar, you won't get a sugar high.