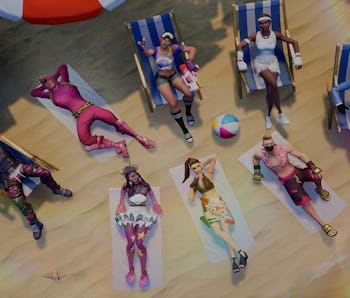 Gaming
'Fortnite' 14 Days of Summer Revealed in Leaks: Here's How to Celebrate
Two weeks of summer-themed challenges are coming to 'Fortnite'.
Epic Games / @stormshieldone
In the coming weeks, Fortnite: Battle Royale might have a new two-week event to close out Season 9 that's reminiscent of December's 14 Days of Fortnite and, more recently, Season 7's Overtime challenges. If recent leaks are correct, the new LTM and the accompanying challenges will be called "14 Days of Summer."
Fortnite data-miner @Lucas7yoshi shared details via Twitter on Tuesday of 14 summer-themed challenges and their rewards. Only one reward remains a mystery, and there's a little bit of everything on there. Two loading screens show beach scenes, there's a water balloon toy, a wrap that looks like a swirly pool float, and a grill sticker.
By far the best potential rewards, however, are a spatula and grill fork mining tool, a beach ball contrail, and the grand prize: the Peely smoothie that Jonesy was drinking in the Season 9 opening cinematic. Peely might be classified as a pet, meaning he'd be an animated back bling that reacts to the enviroment.
The challenges themselves also look genuinely fun, even if they're derivative as always. What is a beach party and how do you dance at them? The "daily unvaulted item" is also interesting. Could that possibly mean that the X-4 Stormwing planes could return in a temporary capacity? Popping balloons has been done before like the Fortnitemares ghosts or Season 7's gold balloons challenge or the "destroy snowflakes" during 14 Days of Fortnite challenge.
It also looks like Epic Games will reintroduce fireworks for 4th of July again this year. This could be a clue that 14 Days of Fortnite will begin before July 4.
In theory, Season 9, Week 10 will begin on July 10. The in-game countdown also indicates that Season 9 is currently scheduled to end on July 23. Normally, we'd assume that the 14 Days of Summer would take place in the last two weeks of Season 9, but Fortnite veterans probably remember that 14 Days of Fortnite lasted closer to three weeks over the holidays in late December and early January.
14 Days of Summer will probably begin in early July, maybe even on July 4. That would leave 19 days until the end of the season — that's plenty of time for people to work towards their Peely smoothie.
Another huge addition to the 14 Days of Summer package are summer-themed alternate versions of existing skins. Just above, you can see a Drift from Season 5 but in his "Summer Drift" outfit. He's ditched the weird cat mask and billowing coat and traded them in for a lei and some flip flops. There's even a Brite Bomber wearing summer clothes they'll probably call "Beach Bomber."
Unfortunately, these super-chill skins will probably only be available in the item shop as an additional purchase.
There also might be a Stranger Things crossover event in the works as well, so it seems possible these two might overlap, but only time will tell.
14 Days of Summer, Fortnite's summer celebration, should begin sometime in the coming weeks towards the end of Season 9.