Why Amazon Is a Sleeping Giant That Could Crush Stadia vs. xCloud
It could be the cloud gaming platform to rule them all.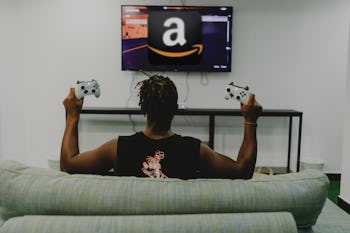 TKTKT
With the exception of a flurry of rumors suggesting that Amazon is developing an alternative to Google Stadia and Microsoft's xCloud, Amazon has remained uncharacteristically quiet about its gaming aspirations. But on paper, it's hard to think of a company besides Amazon that's better-suited to prop up a game streaming service.
Throughout its 25 year history, Amazon has acquired or created all of the ingredients necessary compete in the impending cloud gaming landscape. Candice Mudrick, the Head of Market Analysis at the gaming market analytics firm Newzoo, tells Inverse that if a handful of its subsidiaries were to collaborate, it could form the cloud gaming platform to rule them all.
"Amazon has multiple assets that would synergize under a cloud gaming service," she said. "Not only do they have [Amazon Web Services] infrastructure, but they also own Twitch, Amazon Game Studios, and Lumberyard, their own game engine that integrates with AWS and Twitch…Amazon's opportunity looks promising."
Amazon also has a built-in distribution network. As with Twitch and Amazon Prime Video, it could make its game streaming service a Prime add-on to tap its 100 million paying members. Lumberyard could enable unique Twitch features that could let stream viewers interact with streams, a lot like Google Stadia's "Crowd Play" or "State Share" features. All of that could be built upon AWS, which accounts for roughly one-third of the world's cloud computing infrastructure.
Despite these strengths, the company has not publicly acknowledged its clear potential to break its way into a market that is estimated to be valued at $6.9 billion by 2026. If it's going to step into this ring, it needs to do so soon: Stadia is set to initially launch in November and xCloud to begin limited trials in October. Loyalties will soon be formed.
"Amazon will be coming to the market later than other services," agrees Mudrick. "Despite first-party game development efforts, it will face an uphill battle when competing with the content offerings of established players such as Microsoft."
Instead of putting its foot on the gas, Amazon appears to be scaling back. Amazon Game Studios laid off dozens of employees and canceled an appearance to unveil some unannounced games during the E3 2019 gaming expo, reported Kotaku on June 14. A company spokesperson told the outlet that the move was to "prioritize development" and "new unannounced projects."
First-party game publishing is Amazon's biggest obstacle as far as getting a cloud gaming service off the ground, especially with Microsoft's 18 years of industry connections. The e-commerce giant might need to partner with a high profile game publisher, like Stadia has done with Ubisoft and Square Enix.
The news that Amazon is developing a cloud gaming platform broke in mid-January when the The Information outed the project in a report. That was followed by multiple Amazon "Cloud Games Engineer" job openings first spotted by The Verge. About seven months later, however, there still hasn't been a word from Amazon.
It's possible that the company is waiting on better broadband connection standards to be adopted in the United States, as latency is one of cloud gaming's biggest hurdles. But with every passing day, Amazon's cedes ground to xCloud and Stadia.
Without question, Amazon is cloud gaming's sleeping giant. The only question is what it will take for the giant to wake up.