These Smart Watches Are Great Apple Watch Alternatives
Apple's competition bests its own watch in some ways.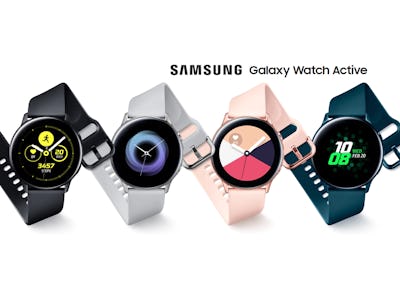 Amazon
There's no way around it: The Apple Watch is the best smartwatch in existence and that probably won't change anytime soon. If you're not on team Apple or don't want to spend nearly $500 on its watch, you're in luck! While the Apple Watch may be the best of its kind, it's competition isn't too far behind. Here are some of the best Smart Watches that make great alternatives to the Apple Watch.
The Fossil Sport is one of the very few Wear OS smart watches that ships with the Qualcomm Snapdragon 3100 chipset, specifically designed for this device type. It's primary purpose is to be more battery efficient and while you'll still need to charge the Fossil Sport every night, its life span will at very least last longer than many of the existing Wear OS watches out there.
For a smart watch, the Fossil Sport's spec sheet reads relatively well. The 1.29 inch round AMOLED display packs a whopping 390x390 resolution, which will make for a bright and crisp viewing experience. You're also treated to a nice helping of sensors, like a Heart Rate Monitor, accelerometer, gyroscope, ambient light, and GPS. It also comes with NFC so you can use the watch as your wallet via Google Pay.
Much like the Galaxy smartphones are the biggest competition to the iPhone, the Galaxy Watch is the biggest competition to the Apple Watch. Samsung seemingly went all out on this watch, as it's big and beautiful. The standout feature on the Galaxy Watch is that it features a rotating bezel that your can twist and turn to navigate through the software, which is literally miles better than continuously swiping through menu on such a small screen.
Built on Samsung's own Tizen OS, the Galaxy Watch may not have a ton of third-party app support, but the essentials are there. It also has a ton of fitness and health-related software to help you track your runs and other exercises. Available in two different sizes (42mm and 46mm), the Galaxy Watch also offers amazing battery life, and can last up to 3 days for the smaller version and up to 4 days for the larger variant.
In addition to the Galaxy Watch, Samsung also has the Galaxy Watch Active, which is a stripped down version of its predecessor that's smaller and kills the rotating bezel. While one could assume that this would turn into a deal-breaking device, it's possibly the best option for everyone.
Available in 4 colors and nearly half the price of the Apple Watch, the fitness-focused Galaxy Watch Active is a value play with very few sacrifices.
FitBit was one of the first on the fitness tracking scene, even before smart watches were really even a "thing". So, when it finally decided to create a smarter fitness tracker, it stayed close to its roots, and it turned out to be a very good decision. The Fitbit Versa is very much a fitness tracker first and a smart watch second, but it's perfect for the right person.
Not only can you expect to track countless different exercise types, as you'd expect from a fitness tracker, but you'll also be able to store and play music on the watch, as well as receive your phone notifications.