MagiqPad Fast Wireless Charger Review
Wirelessly chargers your phone and looks slick doing it.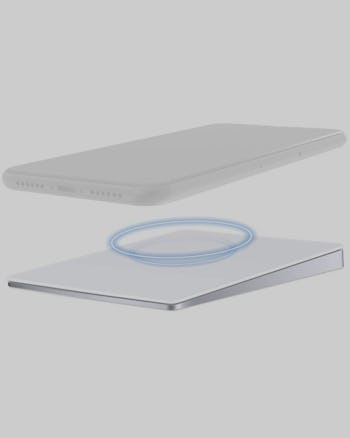 Amazon
In 2012, the idea of wirelessly charging a smartphone was a novel one, but it was possible. The Google and LG Nexus 4, the Nokia Lumia 820 and 920 all featured Qi wireless charging, but there were very few chargers around to supply them with this promising wire-free world. The climb to reach this goal only increased, but was finally unleashed as a standard worth taking note of when Apple released it on the iPhone 8 in 2017.
Now, thanks to Apple embracing wireless charging, charging pads supporting the standard are a dime a dozen, which is a great thing for the consumer. Still, because there are so many out there now, it can be hard to find a good one.
The MagiqPad Wireless Charger offers up fast wireless charging in a form factor that's as slick as humanly possible. In fact, when I picked the package up, I opened while walking back to my house to see what it was and I immediately thought it was an Apple Magic Trackpad knockoff. And to be honest, I was a little bummed to find that it wasn't. Still, the all aluminum and tempered glass charger is really gorgeous in person.
The design of the MagiqPad is a simple one that looks awfully inspired by Apple's design aesthetic. This was very much intentional, as the charger is also available in a Space Gray color option as well. In total, there are four color options, including silver, the aforementioned Space Gray, Pro Black, and white. Geometrically speaking, it looks like a much thinner, much wider doorstop. The top end is thicker and gets thinner as it goes down. It's not something you're going to notice much when your phone is resting on it, but it's a nice touch nonetheless.
In the box, you'll get the charging pad itself and a USB A to USB C cord, and that's it. There's no AC adapter brick in the box, so you'll need to provide your own. Moreover, if you want to take advantage of wireless fast charging and you have a compatible smartphone, you'll need to have a compatible wall adapter.
I put the charger through a couple of tests, charging a Sony Xperia XZ3 and a Samsung Galaxy S7 Edge. Both handsets support fast wireless charging, and I tested the Xperia XZ3 with a TPU case on and the Galaxy S7 Edge without. With the XZ3, charging was effortless. I plopped it on and it began charging. The Galaxy S7 Edge needed to be adjusted every time to make sure it would begin charging. This could be due to the slightly smaller footprint of the phone itself.
As far as charging percentage is concerned, I charged both phones in intervals of 10 minutes and the XZ3 consistently charged 5% per 10 minutes and the Galaxy S7 Edge only reached 2% per 10 minutes. This could be due to the fact that both smartphones have different chipsets inside of them (Snapdragon 820 vs Snapdragon 845) and the Galaxy S7 Edge has a larger battery (3600 mAh vs 3300 mAh).
Theoretically, if the phone supports it, it can utilize the MagiqPad's 10W charging, which is the case for many Android phones that support wireless charging. iPhones currently top out at 7.5W, but the charger will at the very least be able to serve this up to the iOS device.
Overall, the MagiqPad itself is a solid wireless charger that's easy on the eyes, not too expensive, and should be on your list of considerations if you're in the market for a wireless charger.