Use This Digital Antenna to Watch HDTV Channels for Free
Access free HD TV channels within 70 miles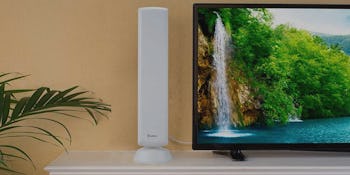 StackCommerce
The Details:
Why You Want It:
Whatever happened to TV antennas? Well, it turns out they've gotten seriously more powerful while you weren't paying attention. The ANTOP AT-402B Digital TV Antenna isn't your granddaddy's coat-hanger antenna. This one can pick up HD TV, 1080p, and 4k — all for free, and with a range of up to 70 miles. It's sleek and compact too, so you can set it up outside or in the living room. TV Antennas are officially back.
The Deal:
The ANTOP AT-402B Outdoor/Indoor Digital TV Antenna regularly runs $164.99 but is now discounted on the Inverse Shop to just $69.99 — a 51% reduction.
Prices are subject to change.