These Headphones Are Better Than Your Headphones and You Deserve Them
Your music won't be the same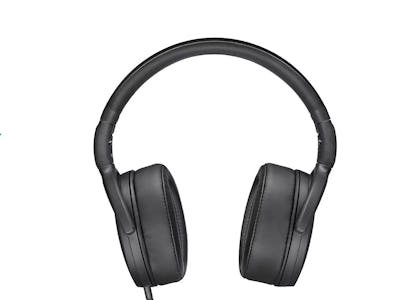 Sennheiser
Have you ever tried significantly better headphones than the ones you were using only to realize that your favorite music sounds infinitely better, and even different? Quality headphones can completely change the way you experience music, and can even make you hear lyrics you've never heard before in some of your favorite songs.
That's the kind of experience you'll have with Sennheiser headphones. You won't understand how you've been listening to music without them.
The company was founded by electrical engineer Prof. Dr. Fritz Sennheiser in 1945 and they've been working to shape the future of audio since then. They sell a range of headphones, from in-ear headphones, over-ear headphones, wireless headphones, and noise cancelling headphones. With so many options, you're sure to find the exact headphones you're looking for, without compromising on model, price or quality.
The HD 400s model is perfect if you're looking for sturdy headphones to use while you're working, at home, or even commuting. They are foldable, so you can take when with you practically anywhere. And they also have a built in microphone which you can use when you're speaking on the phone.
The HD400s are one Sennheiser's more affordable options. They also sell a similar model of noise cancelling headphones for about $100 - $200 more. You'll find that the Sennheiser brand is more affordable than many other top headphone brands. The wireless sports headphone, for example, is $99, which is $50 dollars cheaper than the same model from Bose.
But they also sell the whole range, from affordable everyday headphones, to one that costs $2395.99, the HD 820, which are one of the highest quality headphones in the world. For a company that takes audio quality as seriously as Sennheiser, you can be sure that even the more affordable ones will be held to the same standards.
You have 30 days to try your headphones and return them, no questions asked.