Why Winemakers Are Making Homes for Bats to Save Crops
A natural form of pest-control.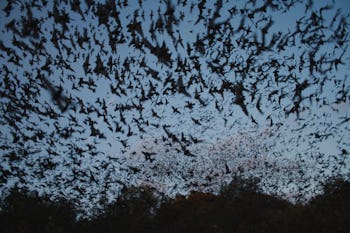 USFWS
Bats are incredibly important for the agriculture industry around the world. Every night, they gobble up two-thirds of their weight in insects — nearly 1,000 every hour. North American bats are worth an estimated $22.9 billion a year because of their important role. So in other parts of the world, farmers are beginning to hedge their bets that bats can do a better job of protecting their crops than chemical pesticides can.
At Herdade do Esporao in Alentejo, Portugal, as Smithsonian Magazine reported today, winemakers are building miniature houses in the middle of vineyards as shelters for bats during the day, so those winged mammals will stick close by once the sun goes down and help eat up all the annoying insects doing harm to thousands of acres of grapes.
Portuguese famers are already seeing a drop in the number of pests flying around and munching on crops. And the partnership with the nocturnal beings means avoiding having to spray poisonous chemicals on the vineyards.
Bats prefer warm, dark places that are isolated from predators. So the winemaking estate chose to build a few dozen wooden boxes capable of housing about 330 bats across the property.
Herdade do Esporao has also begun using ladybugs and great tit birds as other forms of natural insect-killers.
The program is still in its infancy, so there's no data to say how much the bats have helped. But the estate is working with the University of Porto to study the bat guano from the bat boxes and determine what kinds of insects are being consumed the most. With the vineyards improving, chances are good the bats are heavily enjoying munching on European Grapevine Moths.
Of course, bats don't choose between eating pest insects and ones that are good for agriculture. But Rob Mies, executive director of the Organization for Bat Conservation, told Smithsonian "Even if bats ate a particular insect species down to a certain density, they wouldn't waste their energy to eat the last remaining few…Instead, they would switch to a different type of insect." So there would be a good balance among insect populations, with fluctuations occurring here and there.
We'll have to wait and see whether this kind of method of pest-control catches on in the U.S., but with the rise in organic food production, it might only be a matter of time till we see American farmers installing bat boxes of their own.