GoSpace SuperCloud Presents a Smarter, More Convenient Way to Backup Your Data
Now when you store something "on the cloud," you know exactly where it's going.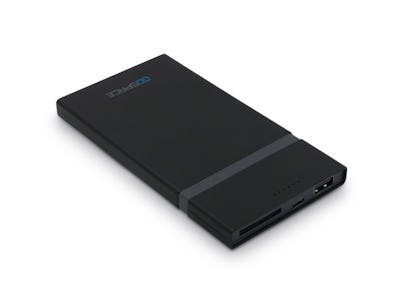 StackCommerce
The Details:
Foolproof data backup system
Transfer files 3 times faster with 2.4/5G wireless
Stream content wirelessly
Connect up to 8 devices at a time
Seamlessly connects to Dropbox and Google Drive
USB cable to charge and transfer data
Charge your mobile device via Qi Wireless, USB-C or standard USB
Why You Want It:
Whether it's assignments for work, vacation photos, or tax documents, you keep a lot of important stuff online. Sure, you can save all your precious data to the cloud, but do you really know where it's going? Now you can finally have complete peace of mind with the GoSpace SuperCloud 5G Wireless Storage & Charger. This portable cloud can hold all your files thanks to its 2.4/5G wireless capabilities — which means it streams content just as easily. You extend your storage to as much as you need and can even back up a whopping 8 devices at a time! And as if all that wasn't enough, you can also charge your QI compatible devices with it — talk about convenience.
The Deal:
Stressing about losing your precious digital data? Protect yourself with the GoSpace SuperCloud 5G Wireless Storage & Charger and start backing things up for just $89 bucks.
Like this deal? Check out Vault — you'll get four premium tools, including NordVPN and Dashlane, to supercharge your online security. Enter code VAULTONE to try it out for just $1!