Release Date and Plot for 'Undone,' a Trippy Cartoon From 'BoJack's Creator
Rosa Salazar bends time and space in Amazon's first adult animated series.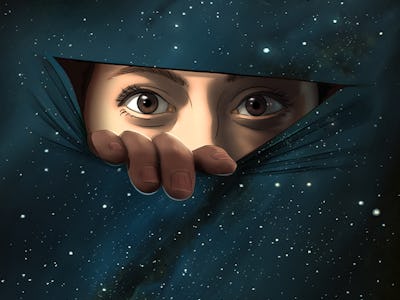 Amazon Prime
If the Netflix animated series BoJack Horseman doesn't offer enough existential crises for your tastes, allow Amazon to fill the void. Set to premiere at ATX TV Festival in Austin on June 8, Amazon will soon begin streaming its first adult animated series, Undone. The show is immediately notable for its distinct visual look, which uses a unique form of rotoscope animation that has never been done in episodic television.
Here's everything you need to know about Undone.
When Will Undone Premiere on Amazon Prime?
Amazon did not yet announce a premiere date for Undone except that it will air "later in 2019" exclusively for Amazon Prime.
What Is the Plot of Undone? What's It About?
Undone is a new animated series from Kate Purdy and Raphael Bob-Waksberg, best known for the Netflix series BoJack Horseman.
The series follows a young woman named Alma (Rosa Salazar, Alita: Battle Angel) who survives a near-fatal accident that induces visions of her late father, Jacob (Bob Odenkirk). Through these visions, Alma discovers the power to travel through time and space, which she uses to hopefully prevent her father's death. The show's press release says the quest "challenges Alma's relationships and brings into question her mental wellbeing with those closest to her."
Where Can I Watch the Trailer?
You can watch the trailer right here.
It Looks So Cool!
The trippy series uses a unique form of rotoscoping animation that, in a nutshell, shoots in live-action for animators to "trace" over frame by frame. In a statement, Amazon says this technique has never been used before for episodic television, making the series quite the innovator.
Per Amazon, the series is directed by Dutch artist Hisko Hulsing, and "utilizes a variety of mediums" including "oil painting on canvas" for backgrounds. Animation studio Submarine, based in Amsterdam, overlooks the show's animation process with Austin studio Minnow Mountain.
If the show looks awfully similar to 2001's Waking Life or 2006's A Scanner Darkly, both directed by Richard Linklater, then it shouldn't surprise you that one of the producers of both films, Tommy Pallotta, is also producing Undone with other BoJack producers Noel Bright and Steven A. Cohen. Minnow Mountain was also responsible for the animation of A Scanner Darkly.
Who's in the Undone Cast?
Rosa Salazar and Bob Odenkirk both star in Undone. Salazar plays Alma, who hopes to undo the death of her father Jacob.
The series also stars Angelique Cabral, Constance Marie, Siddarth Dhananjay, and Daveed Diggs in unknown roles. John Corbett, Jeanne Tripplehorn, Sheila Vand and Tyler Pose will serve as guest stars.
What Else Should I Know?
Beyond Amazon's initial press release, there's little other information about the series except that it will air on Amazon later this year.