5 Vegan Condiments You Should Order From Amazon
Transform an otherwise boring and bland meal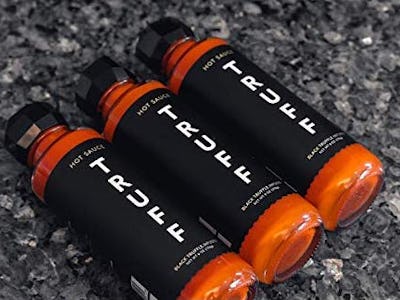 TRUFF 
Not everyone knows how many vegan options there are for food out there. The options are endless, and there only seems to be more out there by the day. If you've ever tried cooking vegan food, you may have realized that cooking a combination of vegetables, tofu, tempeh, can get monotonous pretty quickly if you aren't the best or most creative cook. The good news is that there are great vegan options for condiments that will add flavor to your cooking, and give variety to your meals with minimal effort. Below, you'll find a list of easy and convenient condiments that you can add on a variety of foods. They are all flavorful, simple - and perhaps most importantly - healthy.
1. Parma! Vegan Parmesan
Why We Picked It This vegan parmesan will instantly add flavor to any meal. It's made from a mixture of nutritional yeast, walnuts and Himalayan pink salt, and goes well on a number of different foods, from spaghetti, pizza, and even popcorn - especially popcorn.
2. Holi Aioli Roasted Garlic Sandwich Spread & Mayonnaise Alternative
Why We Picked It The perfect alternative to mayonise, you can use this Holi Aioli spread on sandwiches, as a dip, or even as a grilling sauce. It's made from a blend of garlic, lemon and white peppers and is certified non-GMO.
3. Savory Za'atar and Olive Oil Condiment
Why We Picked It This popular Mediterranean seasoning is a great addition to any savory meal. The za'atar is a blend of herbs and sesame seeds, and ZestyZ has blended it in with extra virgin olive oil for a fresher taste.
4. Coconut Aminos Low Sodium Soy Sauce Alternative
Why We Picked It This Coconut Secret dressing can easily become a vegan staple condiment you can use on a daily basis because of how versatile it is. It has 73% less sodium than soy sauce, and is a great addition to any vegetable dish, sautés, or as a salad dressing.
5. TRUFF Hot Sauce
Why We Picked It This hot sauce includes real black truffle, a unique and flavorful blend, in addition to organic agave nectar, and savory spices. You'll find you'll never get bored of your go-to foods with this hot sauce.