Yes, You Can Legit Rent a Boat Like an Uber
You'll be amazed how easy it is to book your next adventure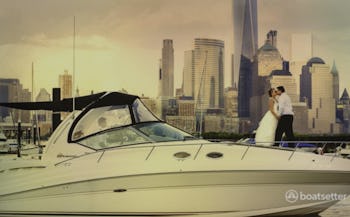 Boat Setter 
You may have thought about travel plans for this summer which require a car, train, bus or even flying abroad. But you probably haven't considered renting a boat.
The company Boat Setter is making that possible, and they make it about as easy as renting an Uber. If you've ever wished you've owned your own private boat, that idea doesn't just have to be wishful thinking anymore. With Boat Setter, you can rent a boat for one day, half a day, or a full week.
Here's how it works. When you go on their website, you enter your location and desired dates, pretty much as straight forward as booking a flight or a hotel. They have an option to choose between a boat with a captain or no captain. The prices for New York City range between $300 for a small 6 person boat for a full day to $10,000 for half a day (yes, this is a really big boat and fits up to 80 people). Whether you're looking for a fun day trip with your friends, or hosting an extravagant party of a lifetime, with as many options as there are on Boat Setter, you're sure to find what you're looking for.
The most popular cities for Boat Setter include San Francisco, New York, Washington D.C. and Miami, but they also have boat rentals internationally. Right now, there are 19,785 boat rentals available in over 300 locations around the world, including Mexico, Central America, Europe, the Caribbean and Australia.
If you are a boat owner, Boat Setter is a great option for making an extra income by renting your boat. Insurance is taken care of by the company and you get to choose who rents from you. And if you're spontaneous and looking for a new experience, Boat Setter makes it easy to embark on a new adventure this month, this week or even today.