The Quick Guide to Men's Grooming and the Items You Need to Buy
These time tested items won't disappoint.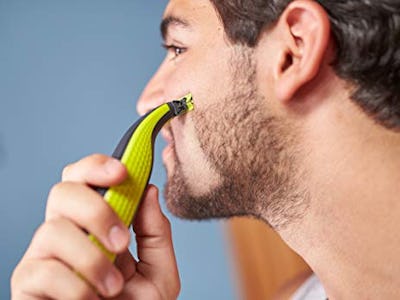 Amazon
It's hard to find the right deodorant that—for one thing—actually works, and also doesn't make you smell like you're in high school, and also won't stain your clothes. But deodorant is one of those staples you can't live without, so it's worth getting it right and making sure you find the one that suits you. Same goes for a razor, moisturizer, and even your most basic soap. You'll find a list of some of our favorite staple products for everyday use.
1. Philips Norelco OneBlade
Why We Picked It: What's great about this razor is that it's an electric shaver but works like a regular razor. It's easy to use and will trim and shave sensitive areas without the pinching of standard electric razor would give you.
2. NIVEA Men Maximum Hydration 3-in-1 Nourishing Lotion
Why We Picked It: A great way to keep your face hydrated and protect it from the sun, as it's got SPF protection, and it absorbs quickly. And most importantly, it doesn't have an overpowering scent, but the subtle scent it does have is masculine.
3. Tom's of Maine Men's Long Lasting Deodorant
Why We Picked It: This Tom's of Maine deodorant is all natural and does not include any artificial fragrances or preservatives. It won't clog pores like spray on anti perspirant and has a subtle scent that isn't overpowering like some spray deodorants out there.
4. Hugo Boss MAN
Why We Picked It: Unlike so many men's colognes out there on the market, you don't smell like you bathed in it. This one is subtle yet present. It's noticeable in a way isn't overwhelming shows in an understated way that you care about your scent.
5. Dr. Bronner's Pure-Castile Liquid Soap
Why We Picked It: This Dr. Bronner's soap is so multi purpose you won't run out of uses for it. It does smell like lavender, but it's relaxing and it calms your muscles after a workout. Most importantly, it's all natural and won't irritate your skin.