Google Stadia Price: What You'll Pay to Access Google's Netflix for Gaming
To tap into the special Founder's Edition, you'll have to act fast.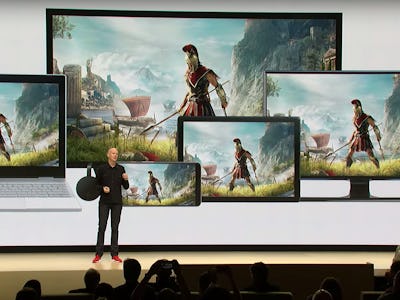 Google
Google Stadia, Google's highly-anticipated Netflix-like game subscription service, announced the details about its pricing, release date (sort of), and what games would be available as part of the service on Thursday. As expected, there are a few different pricing options, with the additional ability to purchase premium titles a la carte as they become available later on this year.
Starting at some point in November (Stadia was a little bit hazy on the exact date), users in 14 countries will be able to access games using only a Chromecast for as little as $9.99 a month or even less. To kickstart adoption and make sure people have the requisite hardware — Google says that games will soon be able to run on any device with Chrome, but for now you'll need a Chromecast — Google is also offering a special inaugural bundle.
More than 30 games have already been added to the Stadia roster, including DOOM Eternal and Assassins Creed: Odyssey, and more are on the way. Here are the three ways you can access Stadia and what you'll get for your money.
Stadia Pro: Price, and What You Get
Stadia's core offering is Stadia Pro, which will cost $9.99 per month. With Stadia Pro, you get access to unlimited gaming on Stadia's full roster (which is expected to rotate new titles in and out) at quality of up to 4K/60fps/HDR with 5.1 surround sound. Stadia Pro customers will also get discounts on future games released a la cart.
As an added incentive, the first few Stadia Pro customers will also get access to the "full" Destiny's 2 experience, a package that includes the game, all expansion packs, and the annual pass.
Stadia Base: What You Get
Starting in 2020, anyone hesitant about cloud gaming — or who wants to play a game released on a console they don't own — will be able to buy games a la carte as part of Stadia Base. You'll be able to keep the games and run them in 1080p/60fps with stereo sound on any Chrome device, including the Pixel smartphones.
Stadia Founders Package: Is the Bundle Worth It?
To kickstart subscriptions, Google is also offering a bundle which looks like a pretty good deal. For $129.99, you can access the following:
Limited-edition Night Blue controller
Three-month Stadia Pro subscription
First dibs on Stadia Name
One 3-month Buddy Pass to give Stadia Pro to a friend
The Stadia Controllers cost $69, and the same goes for a Chromecast Ultra, meaning that the hardware alone makes the bundle about worth it. Six months of free subscription, counting the Buddy Pass, is worth another $60, meaning that it's definitely worthwhile if you're definitely planning on hopping on the Stadia train.
Of course, before pulling the trigger on any of these packages, you need to make sure that the game roster is worthwhile. Fortunately, it appears that Google has lured in most of the biggest game industry fish, including Final Fantasy maker Square Enix; EA, which produces FIFA and many other iconic sports titles; and, in a surprise twist, Rockstar Games, the maker of the blockbuster Grand Theft Auto franchise.