Become the Home Cook of Your Dreams With This Green, Recyclable Meal Kit Service
Cooking can be hard if you don't have experience, but it doesn't have to be.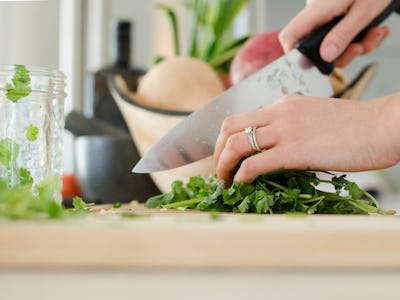 Unsplash / Alyson McPhee
I get it: You live a busy life and it seems like you're constantly putting out fire after fire or moving from one activity to another. It's easy to pick up take-out and get in a rut with eating the same basic things day after day just because it's so easy. But what if you could elevate your cooking, eat healthier, and try new recipes without taking away from your already jam-packed schedule?
The future has arrived and with it, there's a solution for almost every problem in the form of a subscription service. Home Chef delivers pre-portioned ingredients and thoughtfully crafted recipe cards. So in addition to getting ingredients in your box, you also get a recipe card you can keep and add to your budding cooking repertoire.
Pre-portioned ingredients ship in an insulated cardboard box with an icepack so that you can always be assured you're receiving the freshest ingredients. Choose from fish, pork, chicken, beef and vegetarian options and scroll through lists of 26 customizable upscale recipes you can make at home—usually in less than an hour. Home Chef meals start at $7.99 per serving and shipping is free when you spend $45 or more. You can schedule your meals up to 5 weeks ahead of time or order boxes on demand and you can cancel or skip a delivery at any time. Every Monday, Home Chef sends out a newsletter with the 15 meal options available for that week.
One thing that makes Home Chef stand out from the meal-kit pack: All their packaging used in the shipment of your meal kits is 100% recyclable, making it especially enticing for those of us who are sustainably minded. With the help of your Home Chef meal kit ingredient and the companion easy-to-follow recipe cards, you'll be well on your way to becoming a home chef in no time. You'll quickly pick up recipes, get comfortable making them and before you know it, it will be a second nature. You may even get a welfare phone call from your local pizza shop after a week of no orders.
With Home Chef's commitment-free first box, you have nothing to lose by trying it and everything to gain by becoming the home cook of your dreams. Prepared in about 30 minutes and at under $14 a meal, your food budget and health will thank you for your new lifestyle.
And right now, you can get $30 off your first order and $10 off your second. Just click here for this special offer.