5 Must-Have Accessories for Any Driver
The Gadgets Your Car Needs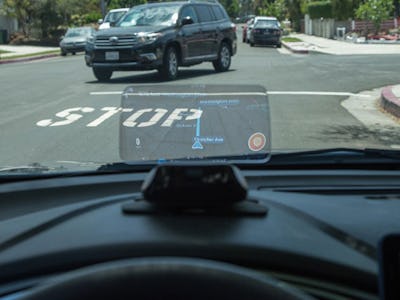 StackCommerce
If you're prone to throwing your stuff into your car and forgetting about it, it's probably a good idea to invest in some of these car accessories that can make your life a lot easier. After all, the more effort you put into maintaining your car, the more you'll enjoy being in it. Here are a few gadgets that any driver should have on hand.
1. Hudway Cast Dashboard Heads-up Display
MSRP: $229
Sale Price: $199
Discount: 13%
A heads-up display like this projects your smartphone screen in front of your eyes so that you don't have to take your eyes off the road to check a GPS or change your music. It's the ultimate in driving safety. It also makes driving at night much more comfortable, because the full-color projection is 20 times brighter than a smartphone screen. All you have to do is stick it on your dash and plug it into your car's cigarette lighter socket or USB port. 
2. PanicSafe Emergency Locator & Car Charger
MSRP: $79.99
Sale Price: $49.99
Price Drop: $39.99
Discount: 50%
If you or your loved ones have ever experienced car trouble, an emergency locator like this is essential. It syncs with your phone, sending out your location and SOS alerts to seven pre-set emergency contacts when you press the panic button or if it senses that the car has been in an accident. And when you're not using it as a safety tool, it works like a regular charger.
3. 14,000mAh Car Jump Starter Kit
MSRP: $75.99
Sale Price: $55.99
Discount: 26%
A dead car battery can really mess up your plans, but antiquated jumper cables can be intimidating to deal with. This sleek 14,000mAh car jumper is much easier to use because it basically works like a portable battery. It can start your car up to 20 times on a single charger, and can even charge your devices 75% faster than a standard charger.
4. CHOETECH Air Vent Fast Wireless Qi-Certified Car Charge
MSRP: $40.99
Sale Price: $31.99
Price Drop: $24
Discount: 41%
A lot of smartphones can charge wirelessly now, so it makes sense to get a wireless charger for your car to avoid having to use a cable. This one clamps onto your car's air vent and gives you optimal maneuverability so you can view your phone while charging it. It also protects your device from over-charging, unlike a lot of chargers.
MSRP: $49.99
Sale Price: $14.99
Discount: 70%
You don't have to pay for a mechanic to scan your car. You can use this wireless scanner to diagnose all of your car problems for you – it's just like the ones mechanics use. All you need is a WiFi connection, and this scanner identifies 3,000 different types of problems in any car manufactured after 1996.  
Like these deals? Check out Vault — you'll get four premium tools, including NordVPN and Dashlane, to supercharge your online security. Enter code VAULTONE to try it out for just $1!