WWDC 2019: Why the "One More Thing" May Be New Hardware
Will WWDC 2019 re-introduce the famous "one more thing?"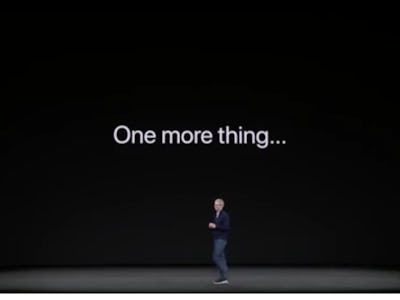 Apple 
By far, the most fun element of pre-Apple event speculation is debating what the "one more thing" might be.
If you're unfamiliar with the tradition, since 1999, Apple keynotes — then helmed by Steve Jobs — have often concluded with Jobs (and, later, current CEO Tim Cook) coyly saying they have "just one more thing" to share, before rolling out a new software or hardware product.
These "one more things" have introduced some notable releases, including the iPod Shuffle, the iPod Touch, the 13-inch Macbook, and Apple Music. It doesn't happen every year, at every Apple event, and in fact, more recent Apple events like March's services event or WWDC 2018 appear to have put the tradition aside. That said, there's already some rumblings that 2019 might bring the famous "one more thing" back, and there is even a pretty good consensus about what this new product might be.
New Hardware at WWDC?
One reason why a "one more thing" revival seems a bit likelier this year is that the typically software-focused conference is expected to introduce some new hardware. Apple could always reveal these new products after discussing the operating system that pertains to them, but this would hardly be as dramatic. Apple is more famous for hardware, and people may also tune out if Apple dishes out the goods too early.
Here are some of the products that Apple may reveal.
New Mac Pro: There have been many reports that Apple plans to reveal a new version of the Mac Pro, the enterprise focused computer that hasn't been substantially updated since 2013. This seems fairly likely, as Apple executives have on a few occasions conceded that there are problems with the device, and promised a new one in 2019.
Why WWDC? Apple typically devotes its September event to the iPhone, and there aren't enough products in the pipeline to justify an extra October product launch like there was last year for the iPad pro. Of course, that could change.
A 6K Display: If you're going to pick up a Mac Pro, you're going to need a display to go with it. This release is perhaps even more notable, as Apple hasn't produced display tech of its own since 2011, and began using third-parties exclusively in 2016.
That's going to change at WWDC: While the famous Apple analyst Ming Chi Kuo has predicted that the new 6K display will launch in either the second or third quarter of 2019, WWDC makes more sense as it would avoid conflicting with the September iPhone event. 
Apple AR Glasses: Finally, there has been some hope that Apple would reveal (or at least tease) the augmented reality headset that it rumored to be entering production soon. However, several reliable leakers have indicated that this is not the case, and that Apple is saving its AR-related launches for 2020.
Before you get too excited, both the new Mac Pro and its fancy display are expected to break the bank. The list price for the 2013 Mac Pro is $2,999, which, given its age, is probably roughly where the new device will be priced as well.
For its part, the 6K display is expected to cost even more. A competing product from Dell, which claims to be the first 8K monitor, starts at $3,700 for a 32 inch variant. Apple could very well price its display around there, which is why many Apple fans seem to hope that there will be at least two variants, the rumored 31.6'' variant and a smaller, cheaper one.
WWDC 2019, then, will probably see a lot more hardware than is typical for a developers conference. But if you're actually planning on getting your hands on it, it'll cost ya.