Apple 6K Display: Price, Release Date for the Luxurious New Display
Apple's return to display tech could be unveiled this spring. 
by James Dennin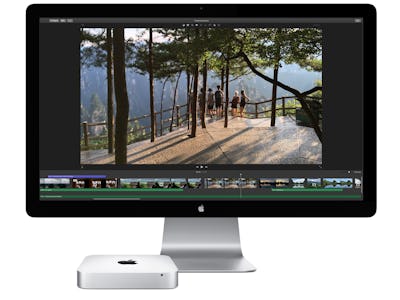 Apple
Apple may be gearing up to unveil some hardware as part of its Worldwide Developers Conference being held on June 3. This is according to some rumors that Apple will take the opportunity to debut a luxurious new 31.6 inch 6K display as part of a tease for the revamped Mac Pro.
This would mark Apple's return to the world of display tech: The last time the company released an Apple-branded display was in 2011, and it discontinued its display line and began directing customers to third-parties like LG in 2016. This rollout is part of an overhaul to the Pro that TechCrunch first reported more than a year ago, after being invited to attend a round-table devoted to reimagining the product.
"We want them to understand the importance they have for us, we want them to understand that we're investing in new Macs — not only new MacBook Pros and iMacs but Mac Pros for them, we want them to know we are going to work on a display for a modular system," said Apple SVP Phil Schiller, according to TechCrunch's report (emphasis ours.)
The fact that Apple hasn't released a display in a while has generated some hype despite the fact that it will likely be pricey and catered to a corporate and professional market. After all, this is the same computer that many Apple employees are said to use.
Apple 6K Display: Release Date
Chatter about the rumored display was kicked off by the latest investor note from Ming Chi Kuo, the notable Apple analyst whose predictions are usually picked up by the tech press.
Kuo's most recent note (which was occasionally mis-reported due to a translation error, per 9to5Mac) pushed back his timelines for some other Apple display releases, but reiterated a timeline that has the 6K display releasing either during the second or third quarter of 2019. The general consensus is that this timeline points to the June 3 WWDC, though it could also leave open the possibility of the September press event, which would still be before the fourth quarter begins in October.
Apple 6K Display: Price
Given that Apple hasn't released a display of its own in the better part of a decade, there's not a ton of precedent. Until they were discontinued, refurbished versions of the 2011 Thunderbolt Display still went for nearly $1,000 on Apple's site.
The LG displays currently listed on Apple's site start at $1,009.95 for a 4K display, and $1,889.95 for a 5K display. Apple's 6K display will probably be priced higher.
Other displays from the tippy top of the market might give us some clues: Dell currently retails what it called the world's first 8K monitor. Its 32 inch variant starts at roughly $3,700. That puts the range for Apple's 4K display somewhere in between $3,000 and $4,000, a figure which already has some redditors longing for a 27-inch follow-up that could potentially bring the price down.
Apple 6K Display: Features
The selling point on this new display will naturally be its size and improved picture quality. To deliver on the latter, Apple is moving toward deploying mini-LED-like backlights, an improvement that's expected to come to some other Apple devices further down the pipeline.
Mini-LED backlights were initially a stop-gap between LCD technology and the OLED screens that began replacing LCD in most high end smartphones last year. These little backlights help close the performance gap between OLED and LCD by boosting the latter's brightness, contrast ratio, and response times, reports Display Daily. But because of the vivid colors and high costs associated with their production, Mini-LED backlights have also been migrated to higher-end gaming monitors that put a premium on image quality.
Finally, 9to5 notes that Apple is exploring the tech as conventional LCD screens plus a backlight may also eliminate the risk of "burn in," a phenomenon where flaws can appear permanently in an OLED display if the same part of the screen is pressed too often.
Apple's return to display tech could introduce one of its priciest products of the new cycle; it obviously won't be for everyone. But especially in the wake of a largely boring push into services, it's nice to see that we likely won't have to wait all the way until September to get a glimpse of Apple's vision for its future hardware.