Could the Toronto Raptors Win the 2019 NBA Finals? A.I. Predicts
A hive-mind of more than 20 NBA enthusiasts has made its prediction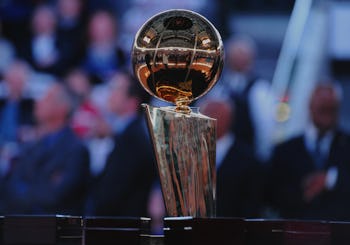 Albert Pena/Icon Sportswire
Fans of the Toronto Raptors, despite rooting for the underdog in the 2019 NBA Finals against the Golden State Warriors, have at least one unexpected reason to be hopeful ahead of the championship series. That reason has to do with jet lag. But will jet lag push the Raptors to a surprising win against their favored opponents?
To predict the answer to this big question about the 2019 NBA Finals, Inverse partnered with Unanimous A.I., which used its swarm intelligence software to group more than 20 NBA enthusiasts together as a hive-mind to make predictions about the series, which begins on Thursday in Toronto.
As you can see in the animation below, each participant controlled a golden magnet (using their computer mouse) to drag the puck toward the result they thought was the most likely outcome. This is where it gets interesting: As one user sees how others are behaving — watching the puck move toward a specific prediction — a psychological response seems to be triggered in their thinking. That user might readjust their thinking as the group builds toward a consensus. It's an artificial intelligence, produced by human brains, working together as a swarm.
Which Team Will Win the 2019 NBA Finals?
As you can see above, the swarm has high confidence that the Warriors will win, a decision it made with 92 percent conviction.
How Will the 2019 NBA Finals Look After Game 3?
Another question on the minds of fans is how the NBA Finals will look after three games. The swarm predicts the Warriors will win two of the first three games. That would put the Warriors in a position to win the NBA championship, at the earliest, on Monday, June 10, during Game 5 in Toronto:
Is Steve Kerr or Nick Nurse More Prepared?
So, which head coach is more prepared? The swarm thinks it's Steve Kerr of Golden State, instead of Nick Nurse of Toronto. Even if Kerr can't control the volume of music in the locker room, the swarm predicts he'll be the more-prepared of the two coaches:
How Many Games Will It Take the Warriors to Win the 2019 NBA Finals?
The Warriors are predicted to lift the Larry O'Brien Championship Trophy Monday, June 10, 2019, after Game 5 of the NBA Finals in Toronto. As the replay above shows, the swarm largely thinks the series will go to five games, with a minority of participants pulling for six games, before forming a consensus with the rest of the group. A minimal amount of participants think the series will go to seven games or last as little as four.
See also:
Unanimous A.I. has made some scarily accurate predictions in the past using swarm intelligence, as our this article explains. For instance, the swarm has picked Oscar winners with 94 percent accuracy and the 2016 Kentucky Derby Superfecta. Here's Unanimous A.I. founder Louis Rosenberg explaining swarm intelligence at a recent TEDx Talk: