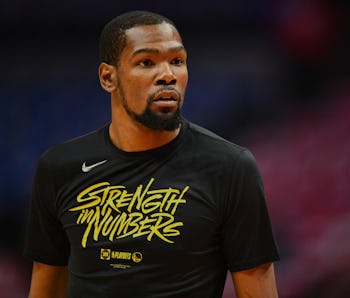 Innovation
Will Kevin Durant Play in the NBA Finals for Golden State? A.I. Predicts
A hive-mind of 22 NBA enthusiasts have made their prediction.
Brian Rothmuller/Icon Sportswire
Will Kevin Durant make an appearance in the 2019 NBA Finals? The Golden State Warriors star has already been ruled out of Game 1 on Thursday, May 30, because of his left calf strain. Durant likely won't travel with the team to Toronto to face the Raptors for either Game 1 or 2.
Durant said last week that his injury was worse than two previous calf strains. The Warriors might be a better team without Durant in the line-up, going 5-0 in their first five games after he was injured.
Travel days in the NBA Finals schedule give Durant a greater chance to come back, though. On Wednesday, June 5, the series moves back to the Bay Area for Game 3, followed by Game 4 on Friday, June 7, before a continent-crossing final three games, if necessary: Game 5's in Toronto, Game 6 is in Oakland, and Game 7 is back in Toronto.
See also: Why the Underdog Raptors Have a Biological Advantage
The question looming over the NBA Finals is if Durant — who's in the middle of a "contract-year frenzy" — is going to play.
To predict the answer to this big question about the 2019 NBA Finals, Inverse partnered with Unanimous A.I., which used its swarm intelligence technology. A "swarm" of more than 20 NBA enthusiasts worked together as a hive-mind to make their prediction. As you can see in the animation below, each participant controlled a golden magnet (using their computer mouse) to drag the puck toward the result they thought was the most likely outcome. This is where it gets interesting: As one user sees how other users are behaving, and watches the puck move toward a particular decision, it triggers a psychological response. They might readjust their thinking as the group builds toward a consensus. It's an artificial intelligence, produced by human brains, working together as a swarm.
As you can see above, the swarm has low confidence that Durant will play in the Finals, a decision it made with 90 percent conviction.
With that information in mind, how many games will Kevin Durant play in the 2019 NBA Finals? The swarm predicts between 2-3 games, as this replay shows:
Unanimous A.I. has made some scarily accurate predictions in the past using swarm intelligence, as our this article explains. For instance, the swarm has picked Oscar winners with 94 percent accuracy and the 2016 Kentucky Derby Superfecta. Here's Unanimous A.I. founder Louis Rosenberg explaining swarm intelligence at a recent TEDx Talk: