The Drug-Free Pain Relief You've Been Looking for Is Here, and It's 50% Off
For a limited time, save nearly $200 on the Dr. Ho's Pain Relief System.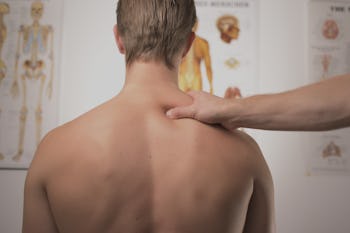 Unsplash/Jesper Aggergaard
There are lots of ways to relieve pain. Unfortunately, a lot of them involve drugs. It might be something relatively harmless like ibuprofen, or something flatout dangerous and addictive like oxycodone. Regardless, there are drug-free options out there. And one of the best is Dr. Ho's Pain Relief System Ultimate Package. It's one of the few non-invasive pain relief systems to use both TENS and EMS treatments to provide near instantaneous relief.
For those who might be unfamiliar, TENS stands for transcutaneous electrical nerve stimulation, while EMS stands for electrical muscle stimulation. The two treatments are often confused with each other, since both send electrical impulses into your body via adhesive electrodes attached to your skin. But they are actually completely different.
TENS devices are intended specifically to treat acute or chronic nerve or muscle pain. They work by directing small electrical impulses into your nerves via adhesive electrodes attached to your skin. These electrical impulses overload and disrupt your central nervous system, thereby reducing its ability to send pain signals to the brain. The electrical impulses also stimulate the production of natural pain relievers called endorphins.
EMS devices, by contrast, are primarily intended to help rebuild muscles after injuries. They work by sending electrical signals to your muscles that cause them to contract the same way they would when you exercise. However, in addition to helping rebuild muscle, EMS devices can also help relieve inflammation, swelling, and muscular pain by stimulating tissue oxidation and increasing blood circulation.
What makes Dr. Ho's Pain Relief System unique is that is uses TENS and EMS treatments in conjunction with one another to provide maximum relief of pain in as little as 20 minutes.
Take a moment to let that sink in. True relief from nerve, muscle, or joint pain in just 20 minutes. Without drugs. Doesn't that sound like something you'd like to try?
The centerpiece of Dr. HO's Pain Relief System Ultimate Package is Dr. Ho's TENS/EMS device with proprietary Auto-Modulation Technology. Research shows that individuals who use a TENS device on a daily basis at the same frequency and intensity can develop a tolerance to the treatment. That means, over time, the treatment will not provide less and less relief. However, Dr. Ho's TENS/EMS device features 24 different settings that vary the strength and frequency of the electrical impulses automatically so you do not build up a tolerance.
In addition to Dr. Ho's TENS/EMS device, the Ultimate Package comes with 36 different massage pads and accessories of various shapes and sizes, including a belt that targets the lower back and an arm and leg band. These enable you to target any area on your body and relieve any kind of pain. The Ultimate Package also comes with a spray bottle, an instruction manual, a detailed pad placement chart, and a 90-day money back guarantee. If you're not completely satisfied, you simply send it all back, no questions asked, for a full refund minus shipping and handling.
As if all that weren't enough, right now you can get the Ultimate Package for 50 percent off the regular price. That's nearly $200 in savings. Whether you suffer from chronic pain, or you're just looking for something to help you recover from strenuous workouts, you won't find a better deal on a more comprehensive solution than this.