Listen to Your Favorite Tunes Wire-Free With This Sale on Earbuds
Go wireless for an extra 15% off using the code Weekend15!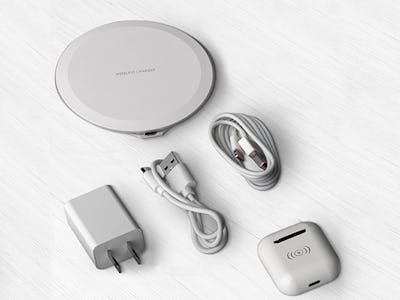 StackCommerce
The details:
Super lightweight design
3 charging options including a USB wall charger, a Qi wireless charging pad, and a wireless charging case
Bluetooth auto-pairing capabilities
Intuitive touch controls
Sweat-proof and water-resistant
Ergonomic design for ultimate comfort
Why You Want It:
It's 2019 and dealing with tangled wires every time you want to listen to music or a podcast is just unacceptable. But unlike other popular brands, these wireless earbuds cost a fraction of the price without sacrificing high-quality sound. Not only do these earbuds minimize outside noise, they boast a stellar Bluetooth connection, letting you stream your favorite playlists and podcasts. And with three great charging options, you can rest assured you'll never run out of juice in the middle of a jam session again.
The Deal:
Normally boasting a price tag of $200 bucks, the Airbuds 3 Wireless Bluetooth Earphones & Multi-Charging Bundle is now 75% off at just $49.99. And don't forget to use the code Weekend15 for an extra 15% off!
Like this deal? Check out Vault — you'll get four premium tools, including NordVPN and Dashlane, to supercharge your online security. Enter code VAULTONE to try it out for just $1!