Keep Fido at Bay With This Easily Installed Pet Gate
Save Almost $100 Off Peace Of Mind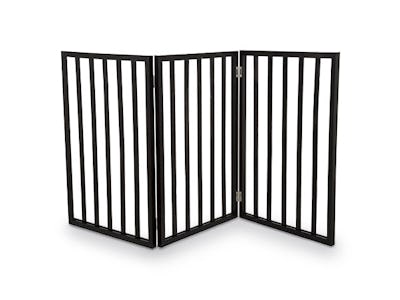 StackCommerce
The Details:
Freestanding pet gate keeps pets out of where they're not supposed to be
Wood and metal construction
Accordion-style set up is easy to put up and take down
Oversized for extended doorways and wide areas
Why You Want It: Fido is a mischievous fellow and if you're not careful, he may just find his way into the kitchen and into the cookie jar. He also tends to get excited when company is over and jump up to say hello, which, it turns out, not everybody thinks is as cute as you do. He also likes to eat the pillows when you're away. There are a lot of reasons to have a pet gate if you're a pet owner. This easily-installed, easily-removed accordion-style gate can bring some control back into your life.
The Deal:
This elegant wooden gate with espresso finish is typically $129.98 but right now you can get it in the Inverse Shop for a whopping 73% off, bringing the final price down to just $35.