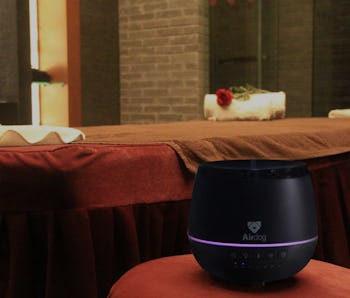 Innovation
Get a Diffuser & Bluetooth Speaker in One 40% Off Device
It's The Ultimate Chill Vibes Dispenser
StackCommerce
The Details:
Humidifier and Bluetooth speaker combo
Super portable design so you can
Sends soothing aromatherapy aromas into the air for 6 hours
Night light features 4 colors
Why You Want It:
Aromatherapy has been shown to provide great mental and emotional health benefits and, better yet, humidifiers make your home smell nice. Music also provides great mental and emotional health benefits so imagine the two working together from the same device? Prince and sage. Bowie and lavender. Pretty sweet, right? This diffuser and Bluetooth speaker combo will dispense all the chill vibes you need after a hard day at work.
The Deal:
You might spend $$ on a diffuser or a Bluetooth speaker on their own but with this deal you can get the Airdog Aroma Diffuser & Bluetooth Speaker for 30% off its $99 price, making it just $58 today- be sure to enter coupon WEEKEND15 to get this exclusive price!.