This Fall's New Comic Books Are Super Different
No superpowers? No problem.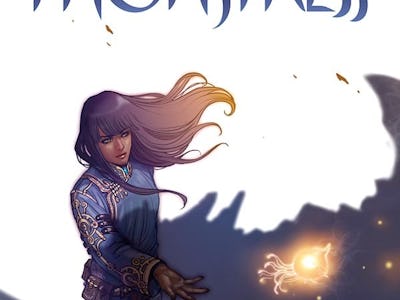 Image Comics
It's easy to dismiss the "so many" superhero movies and shows that soak up all the oxygen in the room, but would you believe that comic books are starting to agree? The big upside is that geek culture has been opened up wide for the diverse many, where once it seemed to be just for the homogenous few.
iO9 has compiled a nifty guide to the new comic book series launching this fall. Perusing them, it's impossible not to notice how far the medium is advancing beyond superhero comic books. Especially great is how many different voices are being heard through these books.
If you're sick of ripped dudes in full-body tights, check out some of what iO9 is recommending:
X-Men writer Marjorie Liu is releasing Monstress, about a young girl in 1900s steampunk Asia who discovers a psychic link to one of the giant monsters that ravage the world.
Toil and Trouble from Mairghread Scott is Macbeth from the witch sisters' points of view — until one of them rebels and sets out to make Macbeth the King of Scotland.
For something more whimsical and modern, American Born Chinese author Gene Luen Yang is launching Secret Coders, about three middle-schoolers who discover encrypted messages left by its mysterious founder within the school computers. It's Mr. Robot meets early Harry Potter by an author who is a legit computer science teacher. Yay for art knowing its STEM.
Survivors Club by Lauren Beukes and Dave Halverson is a loving homage to '80s horror cinema. A group of disparate people who survived horrifying ordeals — i.e., the end of their own horror movie — come together only to find new threats that await them.
Robert Triptow's Class Photo was inspired by a real class photo from 1937 he found in the garbage. Told one page at a time, Triptow speculates on the lives and relationships of each classmate from a long-ago era.
Pro wrestling and comic books go hand-in-hand — both are basically life turned up to 11. Ringside by Joe Keatinge tells the tangible, realistic struggles of people who try to pretend to be super every night. Keatinge was inspired by wrestler Mick Foley, whose own life inspired Darren Aronofsky's The Wrestler.
Stephen Murphy, whose work is usually associated with Teenage Mutant Ninja Turtles, had an unfinished epic called The Puma Blues that speculated a decaying, then-near future of the year 2000. Publishing mishaps delayed the series, which was left unfinished. This year the team reunited to finish what they started, which Rolling Stone hailed as one of the best non-superhero comics ever.
Graphic novels like Watchmen, Maus, and Persepolis earned their decorations. They paved the way that let us accept comic books can be anything but comical, but what's next? The books to inherit those legacies could just be around the corner.