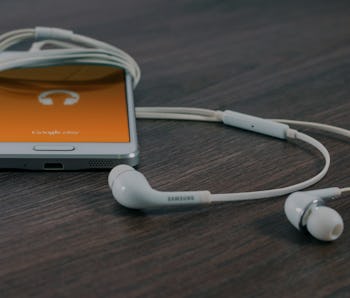 Culture
These Are the Highest Rated Wireless Earbuds on Amazon
Grab some of the best earbuds you can find on the massive retailer. 
Pexels
Looking for a new pair of wireless earbuds, but aren't particularly interested in springing for a pair of AirPods or PowerBeats? Apple has your back. There's a wide variety of different models you can opt for instead on Amazon, each with thousands of reviews that should reassure you of their quality.
If you happen to be in the market for a new pair or just want to try something different, check out one of these earbuds for a reliable alternative to the costly brands out there. You can buy a few of them in the same amount of cash it takes to take home one of the bigger brands, so feel free to experiment with the highest-rated wireless earbuds on Amazon, collected for your viewing (and possible buying) pleasure below.
1. Pasonomi Bluetooth Wireless Earbuds
These Pasonomi wireless earbuds come with quick one-step pairing technology that means you only have to pull them out of their charging case for pairing to complete, then in seconds they'll appear on your smartphone. The case features a built-in 2200 mAh battery that can recharge the earbuds 15 to 18 times, and that means you'll get around 3-4 hours of playback and 60 hours of standby. If you need your headphones to go as hard as you do, this is a great choice - especially since they're sweat-resistant.
2. iKanzi Bluetooth Wireless Earbuds
These attractive earbuds come in black or white, with a matching charging case that will give you 2200 mAh of power and 18 charges before the case needs to be juiced up again. The earbuds themselves will give you 3-4 hours of playtime on one charge as well as 72 hours of standby time. They'll auto pair to your device, and will automatically power off once you've ceased using them. What's more, they should pair beautifully and quickly with new Bluetooth 5.0 tech.
3. SoundPEATS True Wireless Bluetooth Earbuds
Listen to your favorite music with the SoundPEATS earbuds, which come rocking Bluetooth 5.0 as well as the SoundPEATS TrueFree wireless earbuds' fast-connecting mechanics. You can use one earbud or both by just taking it out of the case and it should automatically connect to the device you're using with Bluetooth.You should also get around 3.5 hours of playtime per charge and around 15 hours in total.
4. TOZO T10 Bluetooth Wireless Earbuds
This pair of futuristic-looking TOZO Bluetooth Wireless headphones include Bluetooth 5.0 tech, fantastic sound with an 8mm large speaker driver, and a charging box to keep these bad boys juiced up even when you're storing them. They're also water-resistant, which means you can keep the party going even if you decide you're going to wear them while exercising or swimming – or maybe in the shower, whatever you prefer. They can last over 3.5 hours of playtime from just one charge and will net you 9 hours on standby from a single charge. The accompanying charging case also supports wireless charging.
5. Rademax True Wireless Earbuds
Love the bright blue details on these cool earbuds? You'll also dig their translucent charging case. They also happen to have one of the biggest battery reservoirs out there, with 3.5 hours of playtime from one charge and a whopping 90 hours of cycling play time with the charging case. That's all due to the 3350mAh charging case, which you can also use as a power bank to charge all your other devices via USB port if you choose to. The earbuds are water-resistant and sweat proof, connect and pair instantaneously, and they're very affordable. Suddenly, those AirPods aren't looking so great anymore, are they?