Train to Become an Excel Pro in 45 Hours
Go from A to Z with the Microsoft Excel Essentials Across 8 Courses.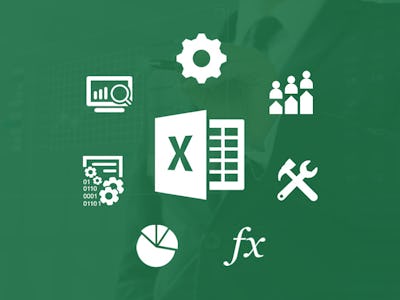 StackCommerce
The Details:
Access 8 courses & 45 hours of Excel training 24/7
Explore advanced Excel formulas & functions
Dive into data visualization with Excel charts and graphs
Get up & running w/ Excel's data modeling and business intelligence tools
Master Excel Pivot Tables & Pivot Charts with hands-on demos
Learn how to create data models for business
Complete real-life projects to become a master with Excel Macros & VBA
Why You Want It
There are plenty of skills you can learn to get ahead in the job market—be it coding, a second language, or creative writing. But, there are few skills that are as universally appreciated as Microsoft Excel, the number-crunching powerhouse that powers just about every modern company. If you want to add this skill to your metaphorical tool belt, picking up the A to Z Microsoft Excel Certification Training Bundle is a solid move. It's packed with a whopping 45 hours of training all focused on turning you into an Excel whiz. From macros to PivotTables, you'll master Excel's essential tools and emerge ready to impress potential employers.
The Deal
While other Excel classes run for hundreds or even thousands of dollars, this 8-course bundle can be yours for only $49, and with a special offer this Memorial Day, you can take an extra 60% off when you plug the WEEKEND60 coupon code in at checkout, lowering that $49 price down to just $19.60!Like this deal? Check out Vault — you'll get four premium tools, including NordVPN and Dashlane, to supercharge your online security. Enter code VAULTONE to try it out for just $1!