Starship 2 Site: "They're Hiding It From the Ground Public Pretty Carefully"
Aerial photos provide the best glimpses of the secretive second Starship site.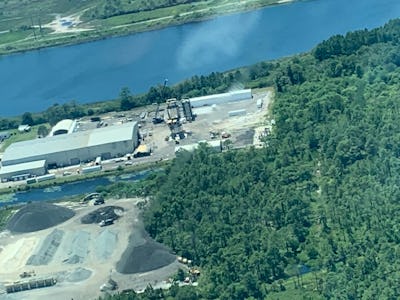 Brian Bernfeld
Not much is known about the second Starship construction site, aside from the fact that it exists. SpaceX CEO Elon Musk confirmed the project only on May 14, after word got out in a NASA-focused web-forum which circulated some pictures of the nascent construction site.
In a clarifying tweet, Musk revealed that this second site would work on Mars-bound Starships in tandem with the Starship's other main construction site in Boca Chica, Texas, in a kind-of competition. Musk says the dual sites will allow SpaceX to determine which is ultimately more effective, adding that the eventual answer "may be both."
What We Know About the Cocoa Facility
Aside from the original forum posts, which depicted a "Starship Hopper" prototype at such early an stage of development that many claimed to take it for a water tower, there aren't a ton of pictures of the new site, which is significantly more hidden from the public than the Boca Chica facility, according to someone who's photographed it.
Brian Bernfeld, a 26 year old flight instructor, tells Inverse that while chatter SpaceX was up to something at the site has built steadily for months, no one had been able to confirm it was a Starship construction site until Musk's tweet. After the post, Bernfeld said he decided to use one of his flight lessons to go check it out. During the short trip, he was able to snap three images of the site, which you can see below.
"I knew exactly where it was, and the second we left the airspace, we spotted a giant shiny metal thing, so I said 'hey do me a favor and go up over there,'" he explains. "I leaned out the window [to take the pictures.]"
The image sheds light on just how secluded the new site is, which is flanked on one side by water and on the other side by an ocean of trees (Florida Today notes that though it's only about 15 miles from Cape Canaveral Air Force Facility as the crow flies, the actual journey is nearly double that). You can make out what appears to be a narrow road running up along the right side of the image, but there appears to be hardly any other industrial activity nearby. Bernfeld says it's much more difficult to spot, particularly from the road, than the Boca Chica facility, where progress is well-documented by neighboring space enthusiasts.
"This one is so early in development, but you know what it is if you know what you're looking for," he explains. "After they tested the one in Boca Chica, that's where it really got going."
How the Two Starship Sites Compare
Progress at the original Starship site is much farther along. On Monday, Austin Barnard, an astronautical engineering student who often shares photography and updates from the Boca Chica facility, shared a number of new images which show a recognizable Starship prototype actually taking shape. In Barnard's photoset, you can see that nose cone has already been attached to lower fairings, and that the Starhopper — SpaceX's orbital prototype used in tests — is being readied for further hop tests.
It's not really clear yet what Musk means that the two sites are in competition. Perhaps some learnings are being incorporated from the Boca Chica facility's manufacturing process, to scale up prototype iteration faster.
Florida Today notes that it's not clear yet whether the facility will be used for testing, and it's easy to see how the Florida site could present a challenge in this regard. SpaceX owns or has leased more than a hundred acres as part of its South Texas launch facility, and while it hasn't yet conducted a full launch, SpaceX recently began conducting hop tests for the Starhopper — test launches where it remains tethered to the ground — in April.
It is hard to see how the tiny site depicted in Bernfeld's images could some day play host to launches for the finalized version of Starship, which based on estimates for its predecessor the BFR will at some point push 350 feet in height, and carry nearly 10 million pounds and roughly 100 people. Then again, it's not yet clear when the Texas site will have the infrastructure to support that kind of launch either.
Developing two sites in tandem, then, will give SpaceX options.