3 Online Mattress Companies We're Obsessed With
Time to finally get the sleep you've been dreaming about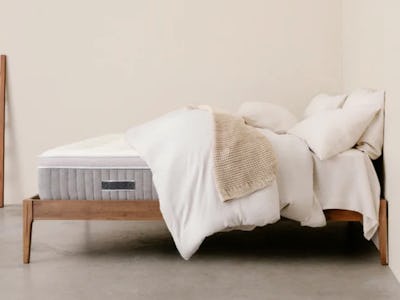 awara
There's nothing like a night of good sleep. But sometimes what get's in the way of this necessity is a mattress that's simply not comfortable enough. It might seem like mattress options are endless and that it's impossible to make the right choice — or listen to a podcast without hearing an advertisement for one. Fortunately there plenty of options, so there is something for everyone. Here are three that we're obsessed with. Each of these are designed to give you the kind of comfort you thought was only rarely possible.
1 . Level Sleep® Mattress
Level mattress is the best for easing back pain. The mattress has three different levels of firmness dispersed throughout, inducing one that specifically supports your lumbar spine, which supports the natural curve in your spine. You'll get $200 off your first purchase, and — probably the hardest offer to turn down — you can try it for a full year before deciding if you like it. After the discount, the mattress costs between $599 for a twin bed and $1199 for a king size.
2. The Nectar Memory Foam Mattress
The Nectar mattress is another super comfortable mattress and it comes with a memory foam top. It's firm but also conforms to your body, which is ideal for sleeping on your side, back, or stomach. Like Level, this company also gives you a 365 day free trial, but it's also around $200 cheaper for any size mattress, so if price is your top criteria, Nectar is the way to go.
3. Awara Latex Hybrid Mattress
The Awara mattress is one of the most natural options on the market. If you're someone who's concerned with the materials your mattress is made from, you can be sure that this one is made with as many organic materials as possible. It's made from natural and organic latex, which conforms to the body for ultimate comfort, and will stay odor free over the years. Like the others, this one also comes with a 1 year trial period and free shipping.