Here's Why Your Mattress Makes Your Back Worse and the Solution to Fix It
Sleep should be restorative, not painful.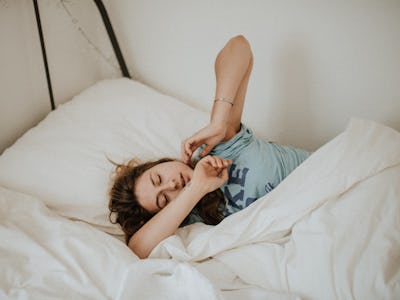 Unsplash / Kinga Cichewicz
You'd be hard pressed to find anyone who doesn't complain of the occasional back ache, and you'd likely have an even more difficult finding someone whose backache is only occasional. In my circle of people, we are all suffering from some kind of ache or pain at any given time and I don't think we're the anomoly. That's where Level Sleep comes in.
If you're like us and find yourself waking up more often in pain than not, your bed could be a part of the problem. Sleep is supposed to be a restorative and healing experience where you are able to rest for the next day ahead. If you're not waking up feeling better than you went to bed, you owe yourself a change. Level Sleep is one of many online mattress retailers, but sets itself apart by being the only one recommended by doctors and chiropractors alike.
The Level Sleep mattress is unique not only in its professional endorsement but in its actual construction. No other mattress combines 3 different firmness levels for optimal support of all parts of your body. Towards the head, LEVELsoft allows your shoulders and neck to sink into comfort and reduce pressure and pain. At the center of the bed, LEVELfirm uses firmer foam to keep your lower back and side supported and level so that your back hurts less immediately. And at your feet, LEVELmedium works to support your hips and align them with your spin so that your hip pain becomes nonexistent.
Available in all standard mattress sizes ranging from Twin to King, Level Sleep has a mattress for everyone so that no one has to continue living with chronic pain. Made 100% in the USA, Level Sleep guarantees satisfaction or your money back. All mattresses ship free, work with all types of bed bases, are protected by Level Sleep's forever warranty and qualify for a year-long sleep trial. Don't love it? Level Sleep accepts returns for free.
At under $2,000 for a king size, Level Sleep is one of the most competitively priced mattresses currently on the market. So go ahead, start sleeping better, deeper and with less pain than ever before. You deserve it.