PS5: Sony's VR Patents Suggest It's Close to Solving VR's Biggest Problem
This could eliminate VR's biggest limitation.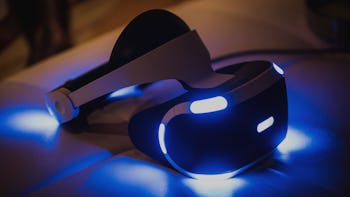 Flickr / IainStars
The PlayStation 5 is expected to be a virtual reality powerhouse thanks to next-generation graphical capabilities. When it eventually launches some time in 2020, patents and leaks have also indicated that Sony plans to launch a new, wireless VR headset to go alongside the upcoming console. The latest patent suggests that this future headset will solve one of VR's most long-standing limitations.
The new patent was granted on Tuesday by the United States Patent and Trademark Office, and describes a specific feature that will allow wearers to see what's going on around them without having to take their headset off. Instead, Sony's future VR headsets will use a mix of audio detectors and a camera embedded on the front of the headset to alert you to potential obstacles or allow you to take a quick peak at your IRL surroundings.
The document explains how the headset will be able to detect voices in the nearby area and determine if the person using the VR headset is being spoken to. It will then give the user an option to pause the game they are playing and activate the headset's camera to see what's happening around them. Here's a portion of the patent summary:
"A method includes … Detecting a person speaking in the local environment … by the [head mounted display], and analyzing the captured audio to identify the person speaking in the local environment … presenting a notification through the HMD, the notification providing an option to pause the gameplay of the video game … pausing the gameplay of the video game and presenting through the HMD a view through an externally facing camera of the HMD that enables viewing of the person speaking."
While this might seem like a small feature, it eliminates the annoyance of having to readjust the headset comfortably over users' heads a second time. It could also serve as an escape function, allowing gamers to take a breather between levels or quickly check if they've wandered too near a wall. Seamlessly switching between virtual and actual worlds will ultimately allow gamers to remain more immersed for longer, and the addition of these extra cameras may even serve to improve gameplay and offer new applications of their own.
Many VR headsets already come with built-in cameras like the Valve Index and Valve Pro. But these lenses primarily serve as external tracking cameras to provide a more realistic VR experience or mixed reality capabilities by overlaying virtual objects onto camera footage. Sony's patent idea offers another way that these external cameras might be used by giving gamers just enough connection to the real world to stay fully immersed in the game.
This wouldn't be the first time Sony patents have pointed to the company's plans for eliminating the most common VR-related product friction. Patents have also indicated that Sony plans to make the headset completely wireless, allowing for better range of motion while playing. Other documents have even suggested it has a plan to make VR headsets better at accommodating bespectacled gamers' glasses.
Sony could be set to dominate the VR console experience in a little over a year. And it looks like part of that approach is by focusing on the little things.