Who Will Take the Iron Throne in the 'Game of Thrones' Season 8 Finale?
Also: We reviewed 'John Wick: Chapter 3,' played 'Stranger Things' D&D, and learned all about Arya Stark's secret weapon at the Battle of Winterfell.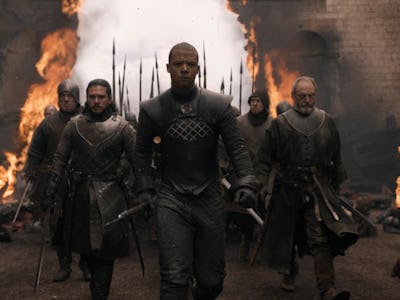 HBO
Daenerys just went full "Mad Queen" on King's Landing … Reddit claims the Sinister Six is coming to the MCU … and we've seen John Wick: Chapter 3.
I'm Eric Francisco, senior entertainment staff writer at Inverse, and this is Multiverse, your twice-weekly guide to news in the geek galaxy.
This is an adapted version of our Multiverse newsletter, a twice-weekly digest of our essential stories from the geek galaxy. Sign up for free here.
You Can Add "Mad Queen" to Dany's Title
Spoilers for Game of Thrones, but we're about to talk about this Sunday's episode, "The Bells." And what an episode it was (if you hate smart storytelling).
Despite taking King's Landing without almost any effort, Daenerys went into overdrive by unleashing Drogon's dragon fire upon the citizens of King's Landing. Look, you can argue that Dany's heel turn into the "Mad Queen" has been foreshadowed, but foreshadowing ain't characterization.
It's not that we can't believe Dany would do that. (She totally would.) Rather, it's the lack of tension building up to the moment just before the bells rang that makes the turn frustrating. We've known Dany to be one thing — a hero. We should have seen her slowly change into a monster. We should have been asking ourselves, "Will she? Or won't she?" instead of knowing exactly what was coming.
Anyway. That's just me. Here's our breakdown on who lived and who died.
What's Next: Game of Thrones airs its finale on Sunday, May 19, at 9 p.m. Eastern on HBO.
What do you think? Was Dany justified in her actions in King's Landing? And who do you think will take the Iron Throne in the finale? Let us know in an email to eric@inverse.com and we'll run the best response in the Thursday edition of the Multiverse.
Read More About Game of Thrones
Here's what's up with Arya's white horse
"Mad Dany" is about to kill off these characters (we think)
We interviewed Game of Thrones sound editor about the ringing bells
Welcome Back. Mr. Wick
We've seen the new John Wick! Out in theaters on May 17, John Wick: Chapter 3 — Parabellum completes the best action movie trilogy of Keanu's career and probably just in general since the last decade. I reviewed the film for Inverse, and I'm telling y'all: You need to see it. Stay tuned this week for coverage.
We also interviewed director Chad Stahelski, who opened up on an unexpected inspiration for the film: Ballet. "Everything in John Wick 3, every frame, every color, every reference from Buster Keaton to Segio Leone to Akira Kurosawa to Tartakovsky, are things I love," Stahelski told us. "But mostly, it's what I love about theater, dance, art. You see Caravaggio in there. The music is Vivaldi. I love live theater." Read more.
Sinister Six, Assemble?
Reddit claims that the Sinister Six, Spider-Man's infamous super-villain group that has never made it to the big screen before, will be featured in the post-credits scene of Spider-Man: Far From Home. Personally, I don't believe it — the "leaker" is dubious at best — but if it's true, color me stoked. I'm just mad Doc Ock isn't in it. Read more.
Arya Stark: Filipino Martial Artist
Mabuhay, Winterfell! In an interview with Inverse, Game of Thrones stunt coordinator Rowley Irlam told Inverse that Maisie Williams studied Filipino Martial Arts for the Battle of Winterfell. "Kali is a style we drew from," Irlam said to Inverse. "My team comes from a very wide background of martial artists and weapons experts, so we draw from all styles we possibly can. Filipino stick work is definitely one of them for this piece, as are double sword work." Read more.
Roll 20 Against the Demogorgon
Stranger Things has teamed up with Wizards of the Coast for Dungeons & Dragons: Stranger Things, a new starter kit that features Mike Wheeler's "Hunt for the Thessalhydra" campaign as seen in the first episode of Netflix's hit series. But more interesting than getting to fight the Demogorgon, the starter kid contains some additional context that you don't really see in Stranger Things: Mike's trauma from fighting the Demogorgon. In short, the starter kit subtlety explores childhood trauma in tabletop form. Read more.
What's Next
On Wednesday, BOOM! Studios will release issue #20 of Go Go Power Rangers, the last issue before Forever Rangers #1 hits stands in June. This Friday, John Wick: Chapter 3 hits theaters, but you probably already know that. And on Sunday, if Game of Thrones isn't your thing, WWE Money in the Bank 2019 will take place at the XL Center in Connecticut. Lacey Evans challenges Becky Lynch for the Women's Championship while Kevin Owens picks a fight with Kofi Kingson for the WWE title.