Seal Out Bad Bathroom Odors With LooLoo—Save 18% Now
A Specialized Automatic Essential Oils Dispenser & Night Light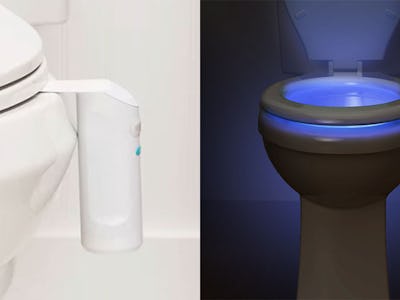 StackCommerce
The Details:
Automated solution seals out unwanted bathroom odors
Sprays out pleasing essential oils when you sit down on the toilet
Integrated night light turns on as you enter the bathroom
Simple to install and refills with an easy twist
Works on practically all toilets
Why You Want It: The description for this product is going to sound like something from the future, and you might be a bit suspicious of whether it actually works, but the truth is the LooLoo is one of the more wonderful products out there. LooLoo senses your body heat every time you sit down on the toilet and automatically sprays a good-smelling blend of oils onto the water to seal in foul smells. It also includes a night-light that works on a motion sensor, so you'll always find your way when you have to go in the night.
The Deal Act now and you'll receive an 18% discount at the Inverse Shop—that's only $39.99 instead of $49 out the door for what's likely to be one of the least regrettable purchases you'll ever make.