This Charging Kit Needs to Be in Your Emergency Kit
Access Qi & Wired Charging Anywhere Via Solar Tech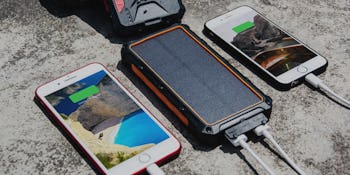 StackCommerce
The Details:
Keep your devices charged in emergencies with the FuelBox
Ultra-durably constructed to last in the toughest conditions
Shock-resistant and water-proof
Integrated flashlight with SOS setting
Features Qi charging along with 2 normal USB and 1 USB C outputs
20,000mAh Li-polymer battery—3A output
Charges from the sun's rays in 6-8 1/2 hours
Can also charge up via USB in 3-5 hours
Why You Want It: Most of us are already afraid enough of being without our smartphones in the town or city that we don't even let ourselves think about the possibility of being stranded in the middle of nowhere without one. The FuelBox makes it easier to consider—and properly prepare for—such a possibility. Solar-powered, water-proof, and shock-resistant, it's a completely self-contained charging brick with a range of wireless and wired outputs, as well as an integrated SOS light for emergencies.
The Deal: Save 14% off of the $99.95 MSRP when you shop for the FuelBox at the Inverse Shop—that's only $85 for a complete remote charging solution that could just save your skin in a fix.