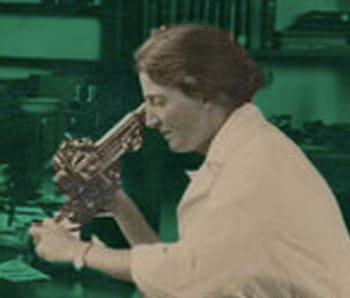 Science
Lucy Wills, British Hematologist, Was an "Anti-Establishment" Icon of Her Era
"Imagine her naturally aristocratic but anti-establishment." 
Inverse
Friday's Google Doodle honors Lucy Wills, an early 20th-century British hematologist remembered for mining the nutritional gold present in Marmite to help pregnant women. Her contribution to nutrition cemented her place in medical history, but through her personal relationships, she's commemorated as a person who subtly spurned convention and is fondly remembered as "independent and radical in outlook."
Wills is best known for her discovery that folic acid — a B vitamin that is conveniently abundant in Marmite — is a crucial nutrient that prevents anemia in pregnant women. To this day, the CDC still recommends that pregnant women take 400 milligrams of folic acid every day to help prevent birth defects in the brain and spine. Wills' contribution to science defines her legacy, but more than one biographer noted the "anti-establishment tendencies" that drove her throughout her life. In her straitlaced time, her achievements and attitude were as "radical" as they were inspiring.
"A Lifelong Concern with Social Issues"
In 1911, Wills graduated from the women's-only Newnham College, Cambridge, with dual degrees in botany and geology. By 1920, she graduated from the London School of Medicine for Women — the first medical school in England to train female doctors. Traveling to Mumbai, India, in 1928, she went on to make the observations that led to her biggest discovery.
In India, Wills saw that pregnant textile workers were suffering from macrocytic anemia. People with that condition have enlarged red blood cells, but their ability to carry oxygen in those cells is greatly depleted. Through studies involving the women and experiments on animals, Wills found that the anemia could be traced to issues with poor diets. In follow-up experiments, she showed that Marmite contained an ingredient that helped prevent the dangerous condition: the "Wills factor," which was later identified as folic acid. She published her results in a 1931 edition of the British Medical Journal.
That trip to India wasn't just formative in Wills' life because it led to the eventual discovery of folic acid. In 2000, writing in the British Journal of Hematology, Monash University professor Barry G. Firkin credited that trip for Wills "radical outlook," which shaped her personality and pursuits outside of science.
Her notes from India during that time described a society where health was deeply determined by social class. Women who worked in the textile mills suffered from anemia, while those of the middle upper classe, who had more varied diets, didn't. This, as Firkin wrote, reinforced her "lifelong concern for social issues":
With a lifelong concern with social issues, no doubt reinforced by the time she spent observing the poverty in India, and perhaps irritated by the complacency and pomposity of many of her male colleagues, she was quietly but determinedly anti-establishment.
"Naturally Aristocratic but Anti-Establishment"
Wills' anti-establishment tendencies showed themselves in more ways than one. After WWII, Wills established the hematology department at the Royal Free Hospital, and each day made a display of arriving at work on her bicycle.
"I see her arriving at the Royal Free Hospital on her bicycle with gloves fixed onto the handlebars."
Also a mountain climber and a skier, Firkin frames her commitment to cycling as a "a symbol of her commitment to outdoor exercise and the environment." Her student, Dr. Daphne Roe, a Cornell University professor, described Wills' bicycle commuting as a statement that emphasized her difference from the other physicians around her.
"I see her arriving at the Royal Free Hospital on her bicycle with gloves fixed onto the handlebars, when the other physicians came in large cars," Roe wrote in 1978. "…Imagine her naturally aristocratic but anti-establishment. She was always critical of the conservative scientific and medical committees on which she served and would regale us as students and fellows in the department with their latest deliberations."
Wills retired from the Royal Free Hospital in 1947, at which point her "anti-establishment" leanings became more clear. In the decade before her death, Wills served as the British Labor party's Chelsea councillor. Records of her political career are few and far between, but her obituary, published in the British Medical Journal, notes that at the time, she upheld "strong convictions on social questions" during her tenure and was "impatient with laziness and half-baked opinions, though she was compassionate to other human failings."
This Friday, the bike-commuting scientist who pioneered a critical finding that still holds great implications for maternal health, would have turned 131.