Google Pixel 3a Review Roundup: 'Remarkable' Features, but With Trade-Offs
Google's entry-level device offers big value.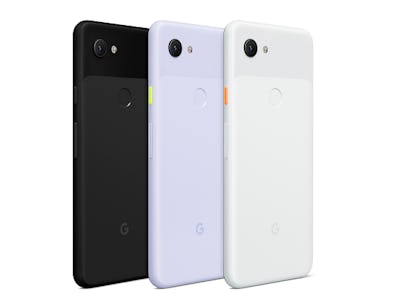 Google
Google has a new entry-level Android smartphone on the market this week, and reviewers can't quite believe its incredible value for money. The Google Pixel 3a and 3a XL, priced at $399 and $479 respectively, pack a powerful camera and augmented reality features with a few trade-offs that differentiate it from more expensive flagships.
A major highlight for reviewers was the 12.2-megapixel rear camera, with an f/1.8 aperture and optical image stabilization. The Pixel range has wowed before with stunning low-light performance using Night Sight, which takes several images and uses A.I. to boost images without using a flash. Hands-on impressions suggest the Pixel 3a comes incredibly close to the more expensive 3, despite costing around half the price.
"I cannot stress enough how remarkable it is to have a camera this good on a phone at this price," Dieter Bohn wrote in his review for The Verge.
The front-facing eight-megapixel f/2.8 aperture camera does, however, lose the ability to take ultra-wide selfies. Elsewhere, Google has cut back by dropping water resistance, wireless charging, and a polycarbonate shell instead of a glass back. It relies on a rear fingerprint sensor unlike other flagships, and the 5.6-inch screen (six inches on the XL) comes with a rather large bezel.
"Sure, Google has cut some corners to achieve the £399 starting price: the plastic body doesn't feel as premium, the lack of water and dust resistance means you'll have to be more careful out and about, and the ability to shoot ultra-wide selfie shots will be sorely missed," Aaron Brown wrote in his review for T3. "That said, we're not sure these are worth paying twice as much as the Pixel 3a and getting the flagship Pixel handset instead."
The Pixel 3a impresses, however, thanks to Google's software abilities. The devices run stock Android, and users can expect to receive updates on the day of launch for at least three years. It offers the same "Now Playing" feature as the more expensive phones, listening for the current song and displaying it automatically. It also packs new augmented reality walking directions, expected to reach the standard Pixel 3 later.
"It lets you hold up your phone, scans the buildings it sees, realizes where you are, and paints big arrows the direction you should go," Jeffrey Van Camp wrote in his Wired review. "The second you start walking, it tells you to lower your phone and switches back into 2D mode so you don't get hit by a bus or walk into a river."
Curiously, unlike the Pixel 3, the new 3a comes with a 3.5mm headphone jack. As the rest of the industry moves toward requiring dongles, this addition stood out to reviewers as a welcome benefit.
"It's a drag that the Pixel 3A isn't water resistant, so I don't have that extra peace of mind when I have my phone around a pool or sink," Lynn La wrote in her review for CNet. "But I do like that the Pixel 3A has a headphone jack. Fellow wired headphone users rejoice!"
The 3a also doesn't use Corning Gorilla Glass, instead opting for a "Dragontrail Glass." Its Qualcomm Snapdragon 670 also isn't the fastest, but reviewers noted that these tradeoffs feel so small in practice that they're almost not worth worrying about.
"The other trade-offs are even less significant," Brian X. Chen wrote in his review for the New York Times. "The Pixel 3A is slightly slower than the Pixel 3, but not noticeably. The cheaper phone's screen also has marginally less accurate colors than the high-end Pixel's display, but you would need to hold the devices side by side and look very closely to notice the difference."
The lower-end smartphone market is thin on competitive devices. The OnePlus 6T comes close with a $549 price, but the fact that Google undercut this even further with such a strong camera led many reviewers to hail the Pixel 3a as a triumph.
"It is tempting to suggest that the Pixel 3a is the best Android phone you can buy for the money," Andrew Griffin wrote in his review for The Independent. "That's true, but it's also only half the story — the Pixel 3a is very nearly the best Android phone you can buy for any money. And it just happens to be comfortingly cheap."
With a slowdown in premium phone sales, perhaps phones like the Pixel 3a will become more common over the coming years.