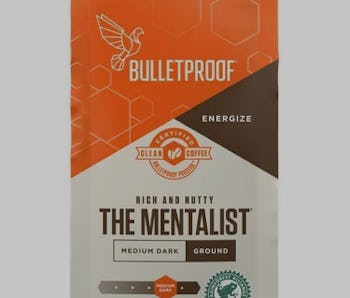 Feel Groggy in the Morning? Try These 5 Brain Boosting Nootropic Coffee's
So you can finally concentrate without feeling jittery 
Amazon
If you're like us, you probably start your day with a cup of coffee, or three. If you're trying to avoid that inevitable jittery feeling coffee gives you, or have been attempting to give up coffee for good, but simply can't, nootropic coffee may be the best alternative. Nootropics enhance concentration and focus, as well as boost energy both in the short term and long term in a more sustained way. You'll find a list of our top picks for nootropic coffee, with varying benefits and flavors, whether you're wanting to change your routine, or simply try something new.
1. Four Sigmatic Mushroom Ground Coffee
Why We Picked It: This mushroom coffee roast is ideal for concentration, focus and productivity. The superfood mushroom powder helps support the immune system, as well as alleviate stress, giving you the benefits of caffeine without the jittery feeling. It comes either as ground beans or in recyclable KCups.
2. Kimera Koffee Nootropic Infused Ground Coffee
Why We Picked It: Kimera Koffee not only tastes great but improves cognitive functioning. It also contains Alpha GPC, Taurine, DMAE, and L-theanine, ingredients which have been shown to increase focus. Other benefits include: improved memory, both in the short and long term, and better mood.
3. Hyperfocus - Brain Enhancing Nootropic Coffee
Why We Picked It: This coffee is blended with Yerba mate for a rich, flavorful taste. It will support cognitive functioning and give you an energy boost that will last all day without making you feel on edge, like regular coffee tends to do.
4. Bulletproof: The Mentalist Ground Coffee
Why We Picked It: Bulletproof beans are harvested in Central America, and are without chemicals, such as pesticides. This coffee goes well as a Bulletproof recipe, with ghee, and XCT Oil, and collagen protein, which not only make the coffee richer and more robust, but healthier for you.
5. I'm Stamina Coffee - Organic Nootropic Mushroom Coffee
Why We Picked It: This coffee has the same benefit as the others, but without the mushroom taste. So if you're trying to forget that you are altering your morning routine by just a little bit, this one might be the best choice. The company uses fair trade, USDA organic certified coffee, and the reishi mushrooms in the recipe are meant to improve sleep, reduce stress, and speed up a recovery process.