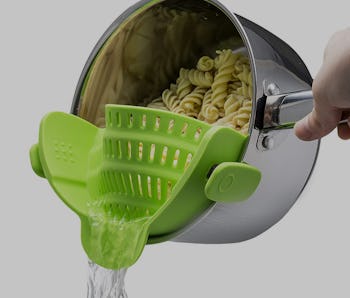 The Best Kitchen Cookware Upgrades You Have to Make
To make you fall in love with cooking again 
Amazon
It's always exciting when you find a new recipe you love to cook, or find an alternative to an old favorite. Something as simple as cutting vegetables in a different way can make you feel like you've taken a cooking class. Or a new cookware item can make you feel excited about spending time in the kitchen again. From an innovative pasta strainer, to a fun and unique ladle, you'll find a list of simple and affordable cookware to upgrade your kitchen.
1. TWICHAN Upgraded Julienne Peeler Vegetable Peeler
Why We Picked It: You can peel, julienne and shred fruits and vegetables with this compact 3-in-1 tool. Either make zucchini pasta with this peeler, or use the julienne tool for vegetables like carrots, cucumber, or potatoes, to add new textures to your cooking.
2. Handheld Spiralizer Vegetable Slicer
Why We Picked It: This spiralizer is perfect for any type of vegetable based pastas, an alternative to carb-heavy dishes. It has two different blades, and works either with long vegetables, like carrots or zucchini, or round ones like onion and potatoes. You can also make fancy shapes from the vegetables to add to salads.
3. OXO Good Grips Vegetable and Onion Chopper
Why We Picked It: This salad chopper is a great addition to any kitchen. It makes salad so much easier to prepare, not to mention chopping vegetables for soup or for stir fry. The machine can chop half an onion at once, so with just swift one motion, you'll easily have fine chopped cubes.
4. Nessie Ladle Turquoise by OTOTO
Why We Picked It: This ladle doesn't just look cool, but it's also practical. It won't create a mess when you are serving soup, and need a place to rest your soup ladle.
5. Kitchen Gizmo Snap 'N Strain Strainer
Why We Picked It: Pasta strainers are always a little difficult to maneuver, sometimes even messy. With this kitchen upgrade, you'll have one less thing to worry about. Simply attach the strainer onto the pot, and then pour it directly, leaving no mess.