Get Complete Protection With Reason Antivirus—Now 80% Off
Block Mic & Web-Cam Hackers, Stop Trackers, & Block Malicious Software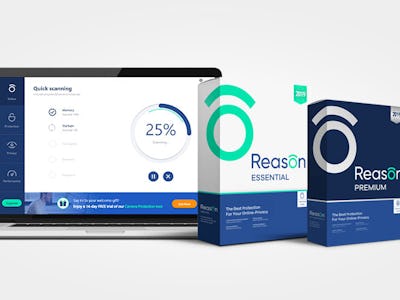 StackCommerce
The Details:
10 years of the premium Reason Antivirus on extreme discount
Stop webcam and mic spies
Stop leaving a browsing trail and kill trackers
Prevent malicious software from invading your system
Acclaimed by CNET and Softpedia for exemplary protection
Why You Want It: There is a wide range of ways malicious entities can invade your privacy over the internet. From advertisers and ransom artists tapping into your mic or webcam to skilled hackers trying to infiltrate your system to plant nefarious software, these threats shouldn't be taken lightly. Reason Antivirus is a particularly well-rounded solution, offering advanced data protection across pressure points—a sense of complete online security.
The Deal: You're generally looking at a sticker price of $300 for a 10-year subscription to Reason, but right now the Inverse Shop is offering 80% off—an out-the-door total of only $59.99 for comprehensive data protection.