4 Coffee Brands Sure to Boost Brain Function
If you're the type who can't start your day without a cup of coffee, you're not alone. But these coffee options go above and beyond by offering boosted brain function with every tasty cup.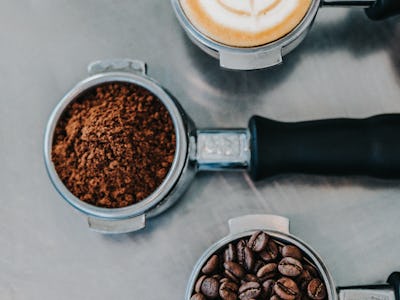 Unsplash / Nathan Dumlao
Some people start their day with a bit of reflective meditation while others need a trip to the gym to get their brain working. But for many of us, the real trick is a good cup of coffee. There's something about that rich and savory cup o' Joe that does wonders for us. We wake up, we're alert and we're more focused. But if you want your coffee to go the extra mile, you might want to focus on these brands that supercharge their coffee with brain-boosting nootropics.
Kimera Koffee Nootropic Infused Ground Coffee
Single-source coffee is all the rage these days and Kimera is proud to highlight the fact that all of their coffee is harvested from one grower in the Dominican Republic. The farm is located in a higher elevation which results in a more flavorful cup of coffee. Kimera's nootropics contain Alpha GPC, DMAE, Taurine, and L-Theanine. These ingredients are meant to help with overall cognition and brain health. But Kimera takes it a step further. Their coffee is also ideal for athletes to improve performance, can serve as a mood booster and can support stress relief.
Four Sigmatic Mushroom Ground Coffee
Who would think that mushrooms could do so much to boost your overall performance? But Four Sigmatic credits their proprietary mushroom blend as the key to improving your overall well-being and brain functions. Four Sigmatic's coffee includes nine specific mushrooms such as Lion's Mane, Chaga, Reishi, Cordyceps, and Shitake to name a few. Lion's Mane is ideal for improved brain function while Chaga is full of antioxidants. And don't worry, your coffee won't taste like mushrooms. Their coffee is great for a variety of diets including vegan, ketogenic, paleo, dairy-free and gluten-free. Four SIgmatic's coffee can be brewed in a traditional drip machine, French press or pour over coffee maker.
If you're the type of person who relies on coffee to make it through the day and especially over the afternoon slump, I'm Stamina Coffee is for you. While the coffee is marketed as if it's geared towards athletes, everyone can benefit from this low caffeine, high energy coffee option. Their nootropic coffee is infused with Reishi and Cordyceps mushrooms. These particular mushrooms contain adaptogens which help you to manage stress. And if you have long days full of unexpected twists and turns, you're going to be grateful for those adaptogens. Like other mushroom-based nootropic coffees, I'm Stamina Coffee won't taste like you're drinking mushrooms.
Lucy Jo's Coffee Roastery Brainstorm Coffee
Rounding out the list of must-have brain boosting coffees is a certified organic ground roast from Lucy Jo's Coffee Roastery. This particular coffee uses only Arabica beans and offers lower acidity for a more palatable cup of coffee that won't upset your stomach. The coffee is a medium blend for a smoother, creamier mouthfeel. Most importantly, Lucy Jo's Coffee Roastery only roasts their single-origin beans by hand in small batches. That increased attention to detail means that you get to enjoy a more flavorful drink.