Upgrade Your Speaker Systems to Movie Theater Sound Quality With These 4 Surround Sound Set Ups
Your home is your palace, why should it include a killer sound set up?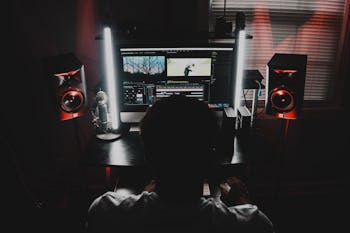 Unsplash / Andre Hunter
If you watch TV, movies or listen to any amount of music, you should be doing so in the best quality possible. There's a reason the movie theater experience is many people's preferred method of consuming cinema and it's in large part due to the fully immersive sound experience. But the movies have gotten expensive and not all new movies are good movies—and what happens to TV and music? Presently they're just thrown to the wayside and quality sound experiences are reserved for $15 ticket payers and the occasional concert with the rarely good sound stage.
But what if you could bring that home? What if you could pay for it once and enjoy quality sound reliably from the comfort of your own home? What if I told you that you could order your new sound system on Amazon and have it arrive at your door step without any more effort on your part?
You can. Below you'll find 4 surround sound set ups that will change how you consume sound forever.
A Compact Option That Doesn't Take Up The Whole Room
Why We Picked It: Good sound doesn't have to come at the cost of your entire paycheck or at the expense of valuable room real estate. With this compact speaker from fan-favorite Polk Audio, even extreme volume levels are kept stable, steady and power efficient.
An Affordable Option That Packs A Punch
Why We Picked It: Modestly priced without sacrificing on quality or value, this 4-piece home theater surround sound system will not clutter your entertainment system with more wires. Instead, it will offer true 5.1 listening with speakers that you can place in every corner of your space for a fully immersive experience.
The Only Surround Sound System with 7 Pieces
Why We Picked It: This 7-piece system plays no games, unless of course, you'd like to play some games in surround sound. With flexible set up, you can connect your new speaker system to any device with a headphone jack, RCA, six-channel direct, digital coaxial input or optical inputs—basically everything and anything. This is the only speaker system on the list certified by Dolby Digital and DTS sound tracks that you can listen to sound the way it was intended.
The Investment Speaker System That Might As Well Be In Movie Theater
Why We Picked It: Among the highest rated surround sound systems available on Amazon, the Definitive Technology ProCinema 6D stands out from the pack. A modern approach to what all men were going for in the 90s, this multi-piece system includes a 1-inch Twetter, 2 mid woofer BDSS drivers and 2 bass raditors for precise sound production that never fails to fill your space.