Make Restaurant-Quality Food in Your Home Kitchen With These Smart Kitchen Gadgets That Do the Hard Work for You
The simple addition of even one of these kitchen gadgets will take your home cooking to the next level.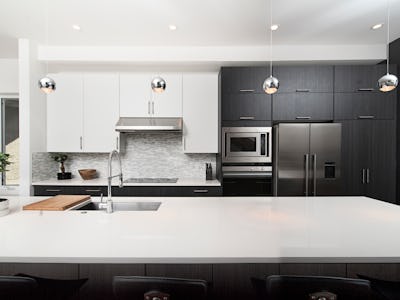 Unsplash / Jose Soriano
Some of us grew up in families where our mothers [or fathers] did all the cooking and some of us grew up in families where washing take out containers was as close you got to actually using your kitchen. Naturally, there can be a bit of hesitation to make use of an unfamiliar space, such as the kitchen.
With these smart kitchen gadgets, you can cook restaurant quality meals in your kitchen without having to go to a second of culinary school. You can prepare perfectly cooked meats and more with just the push of the button. You can spend all day cooking a meal without actually spending more than 10 total minutes in your kitchen. If it sounds too good to be true, let me remind you that the future has arrived and with it, we usher in an error of convenience that isn't limited to UberEats and Postmates.
the Thermometer That Ensures You Get the Right Temperature Every Time
Why We Picked It: With guided cooking methods, a companion app that updates you on your smart phone ever step of the way, and dual temperature sensors, this is the only thermometer you'll ever need to own. Walk away up to 165 feet and still get Bluetooth smart phone updates about the status of your meat with estimated cook times and resting needs to ensure the optiminal doneness and juiciness of your food. Perfect for use in ovens, grills, smokers and more.
the Well-Priced Sous Vide That Controls Water Temperature for You
Why We Picked It: The Sous Vide used to be an unheard of kitchen device reserved only for the most educated culinary practicioners. Over the last few years, precision cookers have entered the mainstream and Anova Culinary has been among the leaders in creating trustworthy, yet affordable, precision cookers for home use. With Anova's Sous Vide and the help of your smartphone, you can cook steak to the exact temperature instead of leaving it up to luck. In no time, you will cook anything like a pro.
the 7-in-1 Programmable Pressure Cooker All Your Friends Already Have
Why We Picked It: The Instant Pot hardly needs an introduction as it has reigned as one of the most giftable appliances the last 2 holiday seasons. If you don't already own one, imagine making anything you want with the press of a button and then your intuitive appliance automatically switching to warm until you're ready to serve it. This isn't just cooking made easy, this is cooking you can do while you're not even home. When you're ready to clean up, it's as easy as placing the inside basket into the dishwasher.
the Fryer That Uses a Fraction of the Oil
Why We Picked It: So much of the issue of frying at home is dealing with grease splatter, managing oil temperature and still not ending up with the perfectly fried foods you imagined. With Ninja's Air Fryer frying, roasting, reheating and dehydrating are possible with a dish-washer friendly single appliance. You use a fraction of the oil—in some cases less than a tablespoon—to keep the perfectly fried foods you've always dreamed of.