PS5 Release Date: Sony Hints When Gamers Should Expect the Next-Gen Console
The company dropped a clue in its earnings report.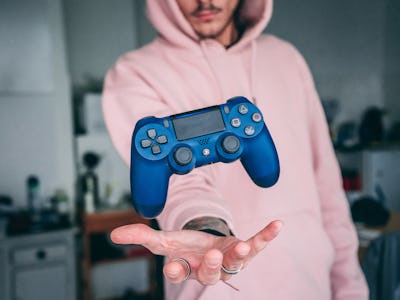 Unsplash / Florian Gagnepain
The PlayStation 5 has been confirmed by Sony and is definitely in development. Mark Cerny, the lead system architect for the PS4, gave fans a great deal of concrete information about the upcoming gaming system's arsenal of capabilities. But evidence about the PS5's release date has been more scarce.
We know about the features and thanks to various patents that paint a picture of the wireless, virtual reality headset that might launch alongside the PS5. Now, Sony is starting to give some clarity about when the PS5 could finally hit stores.
Following Sony's Friday earnings report, a spokesperson for the Sony Interactive Entertainment (SIE) branch commented on when gamers can expect the PS5 to hit shelves. Unfortunately, it looks like we'll have to wait until next year.
SIE told Wall Street Journal reporter Takashi Mochizuki that there won't be any next-gen console launches in the next twelve months. Sony also revealed during the call that it would funnel the money earned from PS4 sales into developing its successor.
"We expect operating income to decrease primarily due to an increase in development expenses for the next generation console," read a transcript of the report.
These updates suggest that the earliest a PS5 launch could take place would be May 2020. But it's far more likely that Sony will reveal the console later that summer — either at E3 2020 in June, or at its own event if it chooses to skip the gaming expo again next year.
On the other hand, a summer launch would still be somewhat unprecedented. The past three PlayStation releases were all held in early-to-mid November to capitalize on the holiday shopping craze. The importance of the holiday sales boost to retailers has also been trending up: Last year, it crossed the one trillion dollar mark for the first time, according to market research firm eMarketer.
Sony has already revealed that it has sold a total 96.8 million PS4 units since its launch. A large portion of these customers will likely be eyeing an upgrade once the PS5 becomes available, especially with the stacked roster of upgrades that are expected to come with the console.
Cerny revealed that the PS5 will come with a solid-state drive (SSD), support 8K resolution, plus make use of a PC-grade rendering technique to make its graphics more realistic than ever.
There's also the prospect of a wireless successor to the PSVR headset, which is still unconfirmed but was mentioned in an epic batch of leaks and multiple Sony patents. The device is expected to be sold separately or around $250, support 2,560 x 1,440 resolution, 120Hz, provide a 220-degree field of view, eye-tracking, five hours of battery life, and come with integrated headphones.
The future of Sony's console seems bright, but fans will likely have to wait over a year before it arrives