This Is the Perfect Protection for Your AirPods
...and it includes an integrated spinner that's awesome for fidgeting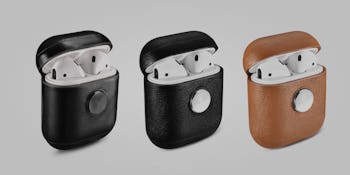 StackCommerce
The Details:
Over-case for your Air Pods 2 charging case
Low-profile anodized aluminum spinner for fidgeting
Framed in impact-resistant polycarbonate
Covered in premium Nappa leather
Why You Want It: Air Pod cases are awesome, letting you charge passively whenever your earphones aren't in use. If you're looking for a protective holder for your Air Pod case to get some more life out of it, this is one of the best options out there. The ZenPod is one of the most innovative—a sleek-looking leather over-case that you can freely spin around on its axis.
https://www.youtube.com/embed/gnjeWa6Fqec
The Deal: The Inverse Shop is running a sweet little discount on the ZenPod right now. You can pick it up for 16% off the $29.99 MSRP in all black, black and silver, or brown and silver—just $24.99 for a super high-quality over-case with an innovative twist.