Google Stadia: A Top Gaming Developer Thinks It Could Change Gaming Forever
A hub as big as a Google streaming product could usher in new game development styles.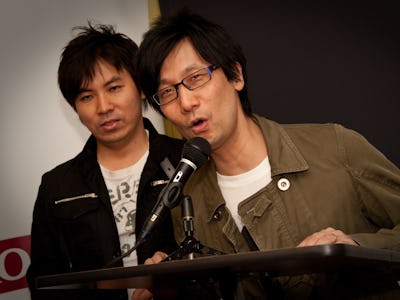 Flickr / hyku
Google has positioned its upcoming cloud gaming service, Stadia, as an industry disruptor. Not only will it put new titles at your finger tips, it will also democratize gaming and end console tyranny.
You can see evidence of this vision in Stadia's slogan, "The future of gaming is not a box." This promise, that Stadia will free gamers from the constraints posed by pricy hardware and hour-long download times, has quickly helped Stadia win the admiration of some influential developers like former Valve engineer Stray Bombay and Certain Infinity's Dylan Jobe. Most recently, one of the most influential developers in the world hopped on the Stadia train with some interesting remarks about how a product like Stadia can open the door to entirely new kinds of media.
These new statements were made by Hideo Kojima, the creator of the acclaimed Metal Gear series and the current head of the game development studio Kojima Productions. In an interview with Japanese magazine Nikkei Business, Kojima said that services like Stadia will help creators break down the boundaries that have inhibited designers in the past, and enable entirely new forms of media in the process.
"Services like Netflix will divide its content between 'interactive games' and 'non-interactive movies'," said Kojima in version of the interview translated using Google Translate. "Games and movies are complete opposites, separated by a border. But that border will disappear. It already started to disappear. Like with Netflix's Black Mirror: Bandersnatch published last year."
Kojima sees a world where the advent of streaming services that offer both games and conventional shows will naturally bring about hybrid content, while also generally closing the gap that one existed between movies and games. Netflix could begin offering more choose-your-own-adventure-like films, or even begin publishing full-length games to compete with Stadia, xCloud, and PS Now.
Stadia has already presented how it plans on uniting spectator entertainment with the more immersive world of gaming. It wants to let the thousands of viewers that tune into YouTube Gaming each night start actually playing right from their browser.
To that end, "Crowd Play" is one of Stadia's defining features. It will allow users to join certain games that are being streamed live on YouTube so they can play with friends and even their favorite online personalities.
Stadia chief Phil Harrison has expressed interest in making Crowd Play the driving force behind the development of future titles. The cloud gaming service has announced partnerships with Id Software and Q-Games. Dylan Cuthbert from Q-Games has already expressed interest in centering a game completely around Stadia's unique feature. Kojima also teased that he wants to use streaming to create a new kind of gaming experience.
"Games will change drastically…" he said. "Technology will keep progressing, and we'll be able to create brand new types of games with novel gimmicks. I'm very busy myself, but I too would love to leave my mark on this side of history."
Stadia and competing services, like xCloud, have yet to be released. So talks about how developers will leverage their features are still in their conceptual stages. But these remarks, from a major player in the gaming world, bode well. They show that some of the world's most innovative designers are eager to embrace console-free gaming and start exploring the possibilities. Kojima Productions might even partner with Stadia for an exclusive release in the future.
Whether Kojima hopes to partner with Stadia, or even whether Stadia itself will be the entity that ushers in this new gaming era (as opposed to some other streamer) remains to be seen. But one thing is for sure: Having mastered video streaming, and by looking ahead to game streaming, Stadia is creating a platform that could support new kinds of media that have yet to be imagined.