Ease Your Troubles—Try Out CBD Cream for a Huge Discount
Can Help Chronic Pain, Alleviate Anxiety, And Balance Mood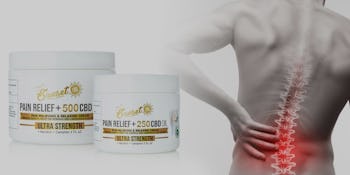 StackCommerce
The Details:
Easy-to-apply CBD cream—simply spread a thin layer on your chosen area
Potentially eases anxiety and stress
Can help keep you on an even keel and manage energy levels
Known to alleviate aches and pains from common conditions such as backaches, arthritis, and sprains
No prescription needs, but you should always consult your doctor before trying CBD for the first time
Why You Want It: CBD hasn't been FDA approved, but that doesn't mean people everywhere aren't raving about its potential to ease anxiety, level out your energy, and keep aches and pains at bay. A no-THC substance, CBD gives you the same healing effects found in conventional marijuana but leaves out the chance you might get paranoid or couch-bound.
The Deal: If you're lucky enough to be in a state where CBD is legal, this is a great chance to try infused cream at a discount. The Inverse Shop is currently offering 250mg at 50% off for $19.99 and 500mg for 62% off at $29.99. Both are great deals compared to the $39.99 and $79.99 MSRPs.