J.I.D. Talks About Atlanta, Kendrick, DiCaprio
The Atlanta rapper has ambitions beyond his music.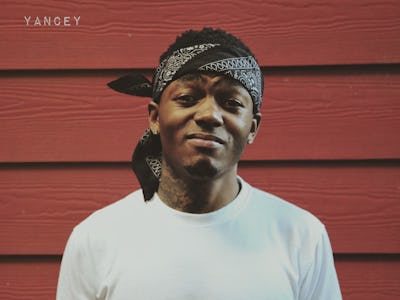 Yancey
This past January, J.I.D. quietly released an EP simply called DiCaprio. According to his SoundCloud description, the EP "was only a flex of skills. Less writing, more creativity; a memory based project if you will." It lives up to the billing.
He raps in a high register that's at once both ferocious and calm. The EP is a polished and succinct work, which is rare from an artist who's barely started his career. J.I.D. knows he's talented, naming his most definitive work after an underappreciated artist whom he sees as the greatest in his field.
J.I.D. wants to succeed in hip-hop, but his ambitions stretch far beyond spitting verses. He names one rapper — YG — when I ask whom he admires, but otherwise cites Arctic Monkeys and Little Dragon. He is steadily working on what he could bring to the table. He's constantly writing and reading. He's got three projects in waiting. He's even come up with a movie, which he admits he hadn't even mentioned to his manager yet "because it's not the time for it." Most importantly, though, J.I.D. stresses throughout our conversation that he wants to be genuine. He understands people want something real to listen to, and he plans to provide it with his upcoming mixtape Para Tu: Reloaded.
Inverse: Where does your name come from?
J.I.D.: It's kinda crazy. My grandma used to call me Jittery when I was a baby because I just always moved. All the time, I just never stopped moving. I was just always shaking and wylin'. So it was Jittery and I just cut it short and made it an acronym, J.I.D.
Inverse: What do you think of being compared to Kendrick Lamar? It's a flattering comparison, but I think the similarities are largely because of your similar voices, delivery, and flow.
J.I.D.: It's cool 'cause Kendrick is an amazing artist, but I just know we're from two separate cultures. I didn't hear of him until after I started making music around late '12, but I feel like people are like, "Wow, that's what he sounds like." People wanna get comparisons. That's just how people are. When they hear something that's just gonna happen. I can take that comparison because he's an amazing lyricist and artist, but I just know that I have something different to say. It's gonna be a totally different vibe. He's a great artist, but I don't understand why the comparisons come and what's gonna happen when I get a full opportunity to express the type of music that I make.
Inverse: Why did you name your EP after Leonardo DiCaprio?
J.I.D.: Leo is my favorite actor. He made me really respect acting. He was one of the first actors that I saw that made me respect it beyond a few other guys I used to like, as well, but Leo DiCaprio always stuck with me. He always has a certain passion about [his movies]. That's the same passion I feel like I have about my music. He hasn't really been rewarded about that. He doesn't have an Oscar yet. Right now, at this point, I don't have much to show for me being a rapper or an artist right now. It just makes me wanna go harder. I feel like it was a good time in my life, like, I ain't got shit. He has a lot of stuff, but he doesn't have an Oscar that everybody judges you upon. It was something I had to do and it was a good time for me. We were just getting started. I sent it to my management and he was like, "Boom, let's do it." I recorded it in the living room by myself.
Inverse: What kind of music do you enjoy listening to and look to for inspiration?
J.I.D.: I like people like YG. I feel like he's an authentic person. I love Arctic Monkeys. I really admire Little Dragon, but I don't see myself ever being able to do a song with them just because I love them so much. I feel like I don't know what I'd bring to the table because they're just an amazing group. I don't really listen to hip-hop. I make that type of music, but it's not necessarily what will be my first choice if I'm putting on my iPod or my headphones. I just like music that gives you a sense or feeling. I don't get that feeling that people get when they listen to hip-hop or rap. Right now, it wouldn't be my first pick. I understand it. It's a part of who I am and what I do right now.
Inverse: So what kind of feeling are you trying to convey with your new music?
J.I.D.: All my projects I try to give a story of who I am within the music. The next project will give you an idealization of who J.I.D. is. I've been doing a lot of writing and stuff like that. I have about three projects in the hole with three different types of feel. They're gonna have a different feel, a different message, the idealization of who I am and what I can bring to the table.
Inverse: Well, who are you?
J.I.D.: I'm a great lyricist, a great writer. I know how to make a song. I feel like I know how to put together something that people can understand and relate to. If you can't relate to the music, then it's really a big flop. I'm trying to make the most relatable stuff. I'm a person who's been through stuff, maybe more than the average person, so it's just a lot I can present. I'm a great artist. I'm trying to be strong in the game. Outside of hip-hop, just all types of things you can relate to and resonate with.
I wanna be genuine. I wanna be the realest person. Right now, I don't have a lot of money, bro. I'm probably the brokest artist you've spoken to, but at the end of the day, I'm working on my craft. I'm not going to any other job. I'm going to my job, at this point. I'm in the studio right now. There's nothing else I can see myself doing.
Inverse: How does this translate into what you're working on?
J.I.D.: Para Tu: Reloaded has the feeling of a coming-out party. I'm from the South and all that, but Reasonable Doubt, one of those type of feels. It's the hip-hop feels. A lot of rap and stuff like that. I have a project that's more like raw, gritty, letting you know that I can rap. Para Tu: Reloaded is letting you know I make songs and put stuff together. It's just a lifestyle type of situation. And the next one is a mixture of where I'm from, that gritty feel, more Southern. The next one I have with a partner of mine, it's like a trip overseas. It's like a cold day in England. It's like a James Blake feeling. I did more writing and not pop but R&B-type feel, vocal stuff.
Inverse: What's the one thing that people should know about J.I.D.?
J.I.D.: I want them to know that I'm an artist, more than just a rapper and a producer. I want to make music that our generation should hear.