Smart Home Gadgets for Your Kitchen
For the novice home cook or the experienced chef the right tools can make easy work of meal prep.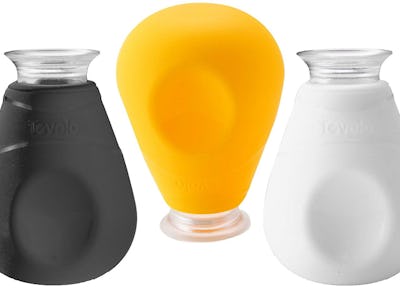 Amazon
We live our busy lives in a faced paced world. There's so much to do and so little time. Many of us are juggling work, and family demands. So often it just seems easier to go out or order out. With all that cooking entails the preparation, the cooking time the cleanup, cooking just ends up being a chore. Often one that no one relishes.
If there's one bit of life advice that rings true time and time again, it's having the right tools can make easy work of any job. Cooking is no different.
Whether you're an aspiring chef, a newbie in the kitchen or the person appointed to make dinner appear on the table every evening having the right tools can make easy work of the job ahead of you.
Kitchen gadgets can run the gamut from frivolous to ingenious. Some of the gadgets buy are purely impulse buys and just for fun while other gadgets leave us wondering how we ever lived without them.
Everyone loves new kitchen gadgets so we've put together a round up of some of the smartest home gadgets for your kitchen.
Do you skip over recipes that call for just egg whites or just egg yolks because it's just too messy? The Tovolo egg yolk separator can help with that. The silicone bulb simply suctions the yolk out of the bowl leaving the egg whites behind. No fuss, no muss.
FRED Steamship Silicone Steaming Lid
They say a watched pot never boils so you walk away and your pot quickly boils over leaving you a huge mess to clean later on. Well, not anymore. The FRED steamship can fix that. Made with heavy duty silicone the steamer lid prevents pots from boiling over.
Joseph Joseph Plastic Cutting Board Set
The Joseph Joseph plastic cutting board set seems pretty clever. It's 4 plastic color-coded cutting boards that are displayed neatly in an attractive stainless steel case. The color-coded boards are non-slip and dishwasher safe and designed to prevent cross-contamination during food prep.
With the Behmor Connected coffee maker, you can ask Alexa to make your coffee. Sounds pretty righteous. Temperature control and pre-soak time can all be controlled through a phone app giving you the ultimate control for the best cup of coffee.
The Prodyne sugar dispenser not only looks quite elegant it actually serves a real purpose. The Prodyne dispenses ½ teaspoon of sugar with the press of button which in turn helps you to keep your sugar consumption in check.
Uttensil Stirr - The Unique Automatic Pan Stirrer
If you ever wished you had an extra pair of hands in the kitchen this might be your answer. The Uttensil automatic stirrer is self-rotating and has three speed options so you can walk away and attend to other things without your burning your sauce or soup.
THAT Inventions Spread That Serrated Warming Butter Knife
No one likes to butter their bread with cold butter. The Spread That butter knife uses your own body heat to carve out the butter and warm the knife making it that much easier to butter your toast.