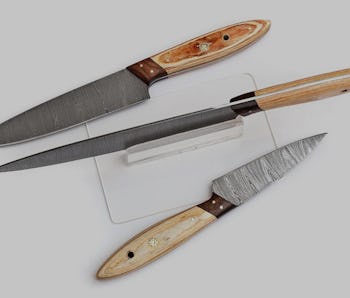 Innovation
Save 22% Off This Beautiful Hand-Forged Knife Set
Damascus Steel, Wood Scale Handles, Top Construction
StackCommerce
The Details:
Made of Damascus steel for hardness
Welded, forged and hammered hundreds of times over
Beautiful wood scale handles
Comes with 7.5", 6", and 4.5" knives
Set suitable for practically any culinary knife task
Why You Want It Like fine leather goods, well-made knives can last a lifetime. The quality of the steel and handle material, as well as how they're put together make a huge difference in the way a knife feels, cuts, and handles, and these Damascus Steel numbers are some of the best. If you're looking for a beautiful, durable, practical set, look no further.
The Deal: Usually $89, you can snag this set right now at The Inverse Shop for just $69 after 22% off today. Your kitchen will thank you.