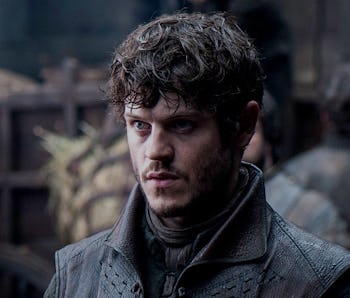 Entertainment
Here's Who Ramsay Bolton Is Rooting for in 'Game of Thrones' Season 8
"He's just about the only decent one of the lot."
HBO
The Night King may be the biggest threat facing Westeros in Game of Thrones Season 8, but among the show's pantheon of great villains, it's tough to top Iwan Rheon's portrayal of Ramsay Bolton. A sadistic bastard with the temperament of King Joffrey and some serious fighting chops, Ramsay was a formidable force — right up until his death at the end of Season 6.
"He definitely was a sociopath and I'm not sure how a lifetime of therapy could have changed him," Rheon says.
Ever since Ramsay's gruesom onscreen death, the Welsh actor has moved on to new roles and opportunities, playing a villain again in ABC's Marvel series, Inhumans and even taking up the mantle of rock god in Netflix's Mötley Crüe biopic, Dirt. But in Mission of Honor, Rheon took one of the biggest steps to distance himself from his Game of Thrones character by playing something drastically different: an actual hero.
Mission of Honor tells the true story of a Squadron 303, a group of Polish pilots who fought for Britain against the Nazis in World War II, and Rheon stars as Jan Zumbach, who served as a flight commander during the war. Over email, he tells Inverse how he prepared for the role, what it was like shifting from villain to hero, and who he's rooting for in Game of Thrones Season 8 (the answer may shock you). Read the full interview below.
What was your favorite part about playing a fighter pilot Mission of Honor?
I loved learning the story and bringing it to life. It's a story that I didn't know and I feel it's so important to tell. These men were incredibly brave. They were willing to give their lives to defend an island that wasn't their home. That's pretty courageous whatever their motive is. It was great shooting the dog fight sequences. We got a small glimpse into the chaos that it would have been. We shot them first which really helped us all understand the reality of the everyday life of the 303. Britain should be very grateful to the brave men and women that come to our aid in our time of need.
Your character, Jan Zumbach, had a pretty fascinating life. Did you do a lot of historical research for the role? And is so, what did you learn?
First of all, I had to learn Polish! That was tricky. It was very important to us that the scenes between the Polish airmen should be in their native tongue. It is their story. I didn't have much time but I had an excellent teacher and the cast were very supportive and helped me out a lot. It's a difficult language to learn from scratch.
Then I tried to find out as much as I could about Jan. There are many sources, but what I found particularly useful was the photographs of the men and him from the war. Along with all the other research you really get an idea of who he was. There is a mischief behind his eyes. The rest I took from the script. There is a lot about him and the colorful life he lead after the war but that hadn't happened yet in our story. Maybe another movie…or three!
What was it like playing the leading man and a heroic figure after your infamous role on Game of Thrones?
Playing a real person is very different. You can't just let your imagination go and make them up. There is a responsibility to the person that existed. Obviously you have to bring your own ideas but there are different given circumstances. It was nice playing someone who doesn't like inflicting pain on innocent people though!
During your time on Game of Thrones, how did you get into the mindset to play such an evil character?
It's the same as any role. You play the truth of the character. Then I go home and forget all about them.
Do you think Ramsay is pure evil, or did you see him as a flawed but more complicated character?
He was a very disturbed individual who was also a product of his environment. He didn't exactly have a loving family. He was left to his own devices and got darker and darker. Constantly reminded of his position in the world which bred a ruthless ambition. In another world maybe he could have been different. Who knows. He definitely was a sociopath and I'm not sure how a lifetime of therapy could have changed him.
What was your favorite Game of Thrones scene you filmed? Why?
There are many. I think my favourite was the parley scene in Episode 9 of Season 6. It was so amazingly written and it felt like two worlds finally colliding. Two characters that were so similar in many ways but we're the antithesis of each other. That's the kind of scene I wanted to be an actor to do. I'm very lucky.
Which character or characters are you rooting for in Game of Thrones Season 8
I hope Jon Snow survives. He's just about the only decent one of the lot.
If you had a million dollars to gamble on the show's outcome, which character would you bet on?
I wouldn't bother and I'd give the money to someone who needed it.
Looking to the future, what upcoming roles are you most excited about?
I really enjoyed playing Mick Mars in The Dirt on Netflix and there are a few more things kicking about.
You played such a great villain on Game of Thrones. Would you be interested in taking on the role of a supervillain in a Marvel or DC movie?
I'd love to play The Riddler. That would be fun! Or Maximus from Inhumans …
Mission of Honor is available on VOD now and on Blu-ray and DVD April 30.